This post may contain affiliate links. Feel free to view my disclosure 
here.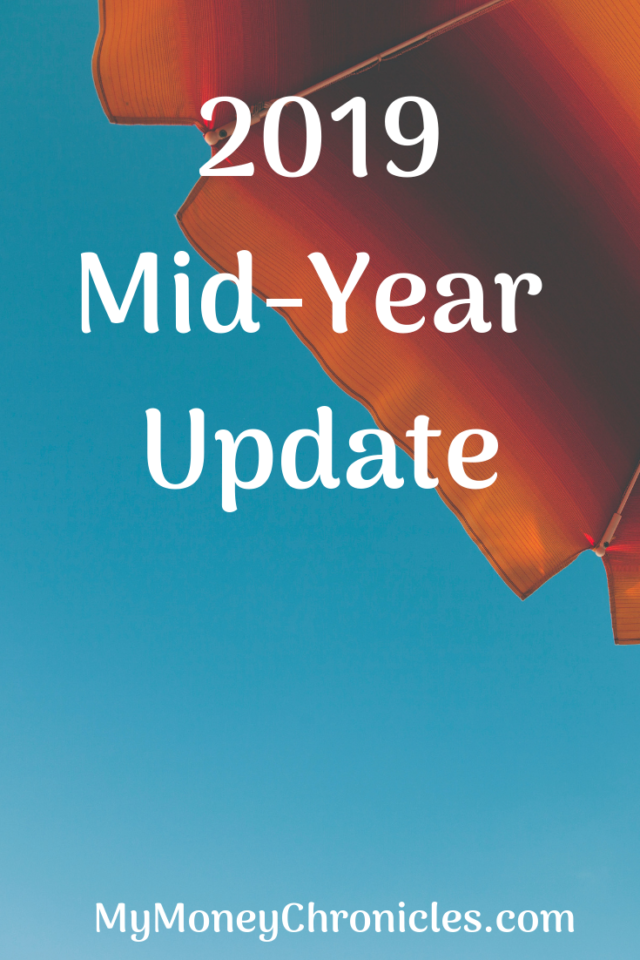 Am I the only person wondering where the first half of 2019 went? It flew by. One minute it seems like I was celebrating January 1st, the next minute it's the middle of summer. At this rate, it'll be December before we know it. I figured that as fast as this year is moving that it was time to work on my 2019 mid-year update. This year has been interesting from the jump. I know that the 2nd half of will be much better. In this update, I will share with you how things have been going and what I plan to do for the rest of 2019.
Rebrand
If you're a new reader or follower, my old site used to be called The Butler Journal. I rebranded in January. The rebrand started a little slower than I would have liked. I underestimated and didn't prepare enough. When you are rebranding, there is a lot of things that you have to consider. Some of them are social media handles, updating images on your site to reflect the new brand, e-mail signatures, links in your articles and more! Believe it or not, I ended up doing some of those things in January and February. I even hired a VA to help me out. I would not have been able to finish all those things by myself. It's been a few months now, but my stats are getting back to normal. I'm still finding images on the site that need to be updated from Butler Journal to My Money Chronicles. They'll eventually get fixed.
Credit Card Debt Went Up
I went back and forth on if I was going to include this in the 2019 mid-year update. I decided to do it. After paying off my credit card debt in 2017, I owe some again. It's not as high as it was back in the day, but it's high enough for me to be slightly pissed at myself. I've realized during this debt-free journey that I'm not going to be one of those people that stop using their credit cards once the debt is eliminated. I like earning points for reward travel. The only time I was supposed to use my credit card was for hotels and to book flights. I messed up in two ways.
First, I didn't pay the card off immediately in full after using it. For example, if a hotel room costs $600, I'd only pay $400 on it and worry about the $200 later. That was not smart. I should have paid it in full.
Second, I used the card for a couple of emergencies that I had. Last year, I had to get a new vehicle. During that search that lasted for a month, I had to get a few rentals. I spent between $500-$600 bucks during that time. This year my dental insurance didn't cover enough for the work that I had to get done. I pretty much depleted my emergency account so I had to use my card. Thankfully, I've paid most of that money back. I'm not using the card unless I can pay it in full.
Halted Posting Debt Updates
I temporarily stopped posting my debt updates a couple of months back. I'm still paying money on the debt, but the money was only going down a couple of hundred bucks each month. My student loan payments were mostly going to interest. It was not motivating to me so I stopped posting them on my site. It was time to refocus. The only way that the debt was going to go down is if I made more money. Sometimes you just have to look in the mirror and face the truth. I have been doing good with my side hustles, but it wasn't enough. Since I failed my debt payoff last year, I had to change some things.
Find a New Job
I had been doing this debt-free payoff my way for the last three years. I was working at a job and doing eBay and MMC (My Money Chronicles) on the side. While I was making some money, I realized that I was not going to eliminate this debt anytime soon because I needed more money. It was time to start applying for jobs. I had done that in the past, but I always stopped and slacked off. I was comfortable at the place that I worked. Comfort will not pay off debt. After we lost our 2nd director in a 2-year time frame, something changed for me. Even though I was a good employee and knew my shit, I realized that I could get fired. I used this as motivation and applied to a lot of jobs. After a few months, I got a couple of interviews. Hard work pays off because I started my new gig yesterday (7/22). It pays more than the previous one as well. That means I will finally be able to put more money on this debt.
New Side Hustle
When I started applying for jobs, I also said that I was going to look for part-time gigs and new side hustles. I struck out on the part-time job search. I kept getting denials. The side hustle situation was better. I've had my new used car for a year now. I'm comfortable with it, so I decided to apply for Door Dash. I was approved in a few days. I previously delivered food for Jimmy Johns, so I had a little experience with it. In late June, I did a test run with Door Dash. It was easy money for the most part. If you've delivered food before you'll be fine. Right now, I only do Door Dash a few hours per week. I'm going to ramp that up soon though. If I can make $400-$500 per month with this side hustle, I'll be good. I'm actually going to do a 7-day challenge where I drive for at least 2 hours each day for a full week. I want to see how much I'll make then. If you want to try Door Dash, check them out here.
Other Side Hustles
My eBay store has been doing well. Minus April (I was out of town for 9 days) sales have been good. I've been experimenting and trying out different items. Some things have sold really well, why others haven't. I've also continued to cross-post my items. I've been getting a decent amount of sales from Mercari during the last few weeks. If you're not cross-posting, you are missing out on money.
I'm also beginning to make traction with Merch by Amazon. I've tested more designs this year than I did last year and it's paying off. I've been getting a couple of sales per month for the last four months and that has been with zero promotion. I'm almost at Tier 25 which will allow me to post more designs. I can't wait until that happens.
Debt Repayment Updates
Earlier, I stated that I put the debt repayment updates on hiatus. Focusing on increasing my income the last couple of months have paid off. I have a new job and a new side hustle. Because of that, the debt updates will resume at the end of August! I'm happy and ready to share them with you again. I can guarantee that the amounts will go down by more than $200 each month. They have to.
The beginning of 2019 wasn't the best, but it's about to be on another level for the rest of this year. More income is the goal and it is happening. I can't wait to get the ball rolling. Credit card debt, car note, and student loan debt is what I'm eliminating. This 2019 mid-year update has me motivated. Let's get it.
Do you have a 2019 mid-year update?