Tips & Tricks For Budgeting With A Car
This post may contain affiliate links. Feel free to view my disclosure 
here.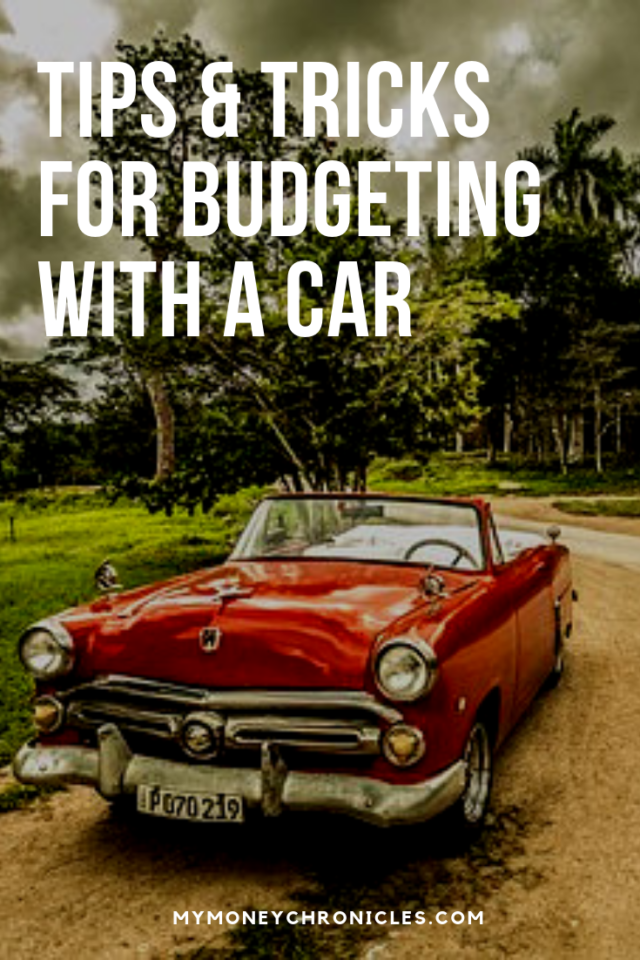 Today, I have a guest post from Giles Kirkland. Enjoy
In today's world, a car is a necessity for many people. Whether for family use or just getting you to and from work, there are many scenarios where a lack of personal transport isn't viable. What's also not particularly likely, however, is the costs associated with keeping such a vehicle in the first place.
Fortunately, as any money-saving veteran knows, there are always ways to cut and trim costs. Here are some of the most useful tips and tricks for budgeting with a car.
Insurance Tricks for Budgeting With a Car
Insurance providers are never easy to deal with, but you can negotiate. More than just agreeing to new terms and costs, there are a few other things you may wish to consider. One of the best things you can do, for instance, is to prove you're a good driver. Most policies insure you based on statistics of your age, as well as the car you drive, so proving your capabilities is a way to beat this curve. 
Smart boxes will record such data, giving you something to haggle with. These telematic providers appear more frequently, so why not be rewarded for safe driving? See if your insurer is willing to offer such a policy or enquire with providers who already do.
Similarly, installing a speed limiter will reduce the top speed of your car, and many providers actively offer better deals as a result. Various insurance companies and the Federal Motor Carrier Safety Administration support this. As with anything financial, you should ensure the savings outweigh the initial costs.
The Cost Of The Vehicle
Another essential aspect many people don't consider is the car's value. Specifically, you should focus on the cost of repairing versus the cost of replacing. If you're spending a small monthly to maintain an old car, would it not be cheaper to start down payments on a new model?
The same argument also works for your insurance. For example, if your car costs $1,000 to replace, but the insurance costs $700, with a repair excess of $500, then you're paying $1,300 to fix a car via that year's insurance. If your policy is inefficient, buying another vehicle is cheaper.
Fuel Efficiency
No matter how your vehicle is fueled, power costs money. The more you drive, the more you spend, so learning a few smart driving methods is best. There are many efficient driving tricks you can learn, but the most important are:
Bringing the car to a slow stop rather than quickly breaking. The latter uses more fuel over long periods.

Not keeping the motor running at idle unless you have to (such as in traffic).

Reducing the weight of your vehicle, such as emptying the boot or removing roof racks when not in use, increases aerodynamics.
Finding The Right Parts
When something inevitably breaks down, replacing parts is often costly. This is, of course, if you buy the first parts you see or insist on manufacturer-specific parts. Otherwise known as Original Equipment Manufacturer (OEM) parts, these are usually expensive but guarantee a level of quality – as well as a one-year warranty.
However, the broader range of aftermarket parts gives you more financial freedom. You're not limited to one supplier so you can shop around, and many parts may offer the same quality or more significant. Do some research and find the parts that suit your budget and needs. 
Similarly, the right choice of economy tires can provide a long-lasting solution. Of course, tires still wear out, but switching the front and rear wheel tires around roughly halfway through will extend their lifespan since the steering wheels often wear down a little more quickly.
Dealing With Mechanics & Garages
Garages and mechanics are out to make a profit like any other business. Some offer a reliable service for a fair price, while others look to charge a lot and add some extra costs along the way. Here are a few tricks for dealing with the auto-repair industry:
Don't get pressured into buying parts on sight. When a garage runs tests, they might offer you a cheap rate, knowing they can pressure you into purchasing expensive parts there and then. You have a right to shop around, so use it.

Always get quotes from different garages before any service, but ensure there are no time limits on these. For instance, A quote is useless if it expires by the end of the day.

Better yet, have your car inspected by a mechanic in-person and get them to print an estimate. It's more time-consuming, but a more detailed itinerary can help you 

cut out the big expenses

.

If you find somewhere with the right service and repair fees, ask if you can bring the parts you purchased elsewhere. They will often be happy to get part of your custom, even if it means foregoing a possible upsell.
As a general rule, a good garage will be willing to share their knowledge and offer you a fair price to gain a loyal customer over the years to come. This is certainly something to watch for – as you can always use your status as a frequent customer to negotiate a new price if it gets too expensive – but you are still a customer. You have a right to be aware of the broader market. 
These are just some of the easiest ways that will help you when it comes to budgeting with a car. They will help you to reduce the costs of your vehicle, but there is always plenty that can be done. If you're feeling brave, why not learn a few mechanic tricks and replace some of those parts yourself?
Jason Butler is the owner of My Money Chronicles, a website where he discusses personal finance, side hustles, travel, and more. Jason is from Atlanta, Georgia. He graduated from Savannah State University with his BA in Marketing. Jason has been featured in Forbes, Discover, and Investopedia.