How Long Does it Take to Sell An Item on eBay: My Average Sales Time on eBay
This post may contain affiliate links. Feel free to view my disclosure 
here.
I was messaging back and forth with a friend a few weeks ago when she asked me a good question. She asked me what my average sales time on eBay was. I honestly had no idea. I decided to do some research and find the answer. I looked over the last 50 items that I sold. My numbers surprised me. Before I get into the numbers, let me go over the items.
Looking at the last 50 items, I could see what items had been popular sellers. The items sold from October 29th to December 11th. The top things that sold were:
Clothes – 10 items
Jerseys – 7 items
Shoes – 6 pair
Mugs – 5 items
Books & Board Games were both at 4
I was surprised that clothes were my most popular item. I knew jerseys and shoes would be on my top-seller list, but I didn't think clothes would be number one. My recent sales shows me what items I need to focus on. I should start listing more clothing and stop selling certain things. I will start looking for more clothes (jerseys, shirts, hoodies, etc.) to flip.
Sales Time
Are you ready to see what my average sales time on eBay is? Here goes. In total, the 50 items were listed for 11,255 days. Next, I divided the number of days (11,255) by the number of items (50). Using that calculation, it takes my things 225 days to sell. That is a hell of a long time. Thank goodness I have a lot of items in my store. Let's get more profound, though. You'll see why I'm not too worried about it taking 225 days to sell an item.
I decided to group the 50 items by timing to get more details. Below is the following separation:
0-30 Days – I had four items sell within a month.
30 – 100 Days – I had 16 items sold during that time.
101 – 200 Days – I had 11 items sold during that time.
201 – 365 Days – I sold seven items during this period.
365+ Days – Last but not least, I had 12 items take over a year to sell. That's crazy.
Looking at these numbers, most of my items sell between 30-100 days. That's pretty good. I noted that my second-highest sales came from articles I've had for over a year. That's another good thing because I've been trying to get rid of my older items. I took updated pictures, changed the titles, and edited or added more to the item descriptions. It's working.
If I removed those 12 items from this tally, the number of days listed would go from 11,255 to 4588. If I divide that number by 38, it comes out to 120 days. That would make the average sales time on eBay 4 months. That's much better than 225 days. I still have work to do to get the time lower.
The item that took the longest was listed for 934 days. That was damn near three years. The thing that sold the quickest only lasted for 6 hours.
I aim to reduce my average sales time on eBay to under 100 days. I know that it can happen.
How will I do it?
Quick Selling eBay Items
I plan on doing that by sourcing more items that will sell faster. I'll be checking different brands and or sizes as well. Besides going to thrift stores, I'll be sourcing in other places. I'll find yard sales, auctions, and estate sales online. That way, I'll increase this inventory and sell things quicker.
Some quick-selling items I like to flip are Jordan shoes, NBA, MLB & NFL jerseys, vintage board games, and electronics. If you want a list of brands to sell, check out my ebook, 50 Brands You Can Sell Online.
Competitive Pricing
I also plan to make my pricing even more competitive. I have a habit of listing some of my items high. I try to get a bang for my buck. Instead of trying to make 5-6 times as much for an item, I will shoot for 3-4 times as much. I realize that some high prices are a turn-off for some buyers. With those prices being a little lower, things will sell quicker.
Cross-Post More Items
Finally, I plan on cross-posting even more items. I will list more of my things on different platforms. The platforms that I will be using are Mercari, OfferUp, Craigslist, Facebook Marketplace, Nextdoor, and Poshmark.
Doing those things will help me increase my average sales time on eBay.
Check out the free webinar, eBay for Starters
Need help with eBay, check out the following blog posts below:
In this post, I share the top items I sell on eBay. These are all items that you can find and flip as well.
What to Sell on eBay: 45 Items to Flip Now
If you need help finding items to sell online, you are in the right place. In this post, I share with you 45 items that you can flip today. Many of these items are things that I've personally sold.
30 Interesting Things Sold on eBay
When you think about things people sell on eBay, you probably think about electronics, jerseys, clothing, and shoes. Those are not the only things that people sell on eBay. I looked online and found 30 interesting things that sold on eBay. I was shocked to see a few things that made the list.
Where to Get Inventory For eBay
You may be interested in selling things on eBay but need help finding items. This post features several places where you can get inventory for eBay.
Also, join my Facebook group, My Money Chronicles, Inner Circle.  We discuss eBay and other side hustles.
Shipping Supplies
Scale
If you want to make shipping as stress-free as possible, you have to purchase a scale. I bought my scale in 2020. It was one of the best decisions that I made that year. I recommend this Accutek. It's the exact one that I have. I paid $25 for it. Click on the image below for more info.
Poly Mailers
This is another item that I started using in 2020. If you sell a lot of clothes, you need to be using poly mailer bags. They are very durable. You can save so much money using them instead of putting your closed in small boxes or large envelopes.
Tape
If you ship as much as I do, you will need a lot of tape. Below is the brand that I use.
Printer
I used to go to the post office and have them print my postage. That was cool for a while, but I hated slowing up the line once I started making more sales. The turning point for me was waiting in line for 40 minutes and then getting postage for eight packages. I told myself never again and purchased a printer. Here is the HP printer that I brought. It does the job perfectly.
Bubble Wrap
This is another item that you will need. I sell a lot of bobbleheads and mugs, so I go through bubble wrap a lot. I used to purchase the $3 bubble wrap pack from the store every other week, but it wasn't enough. I finally started ordering a more significant size online. I saved money and time doing that.
If you like eBay like I do represent and grab this shirt today.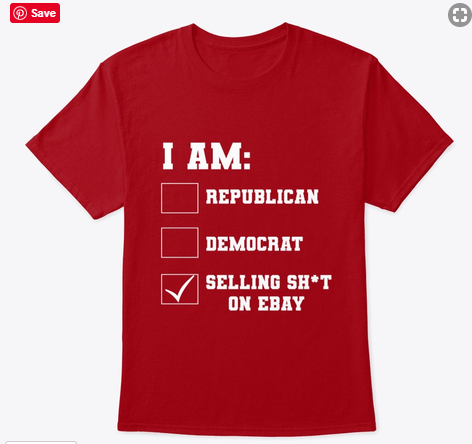 Jason Butler is the owner of My Money Chronicles, a website where he discusses personal finance, side hustles, travel, and more. Jason is from Atlanta, Georgia. He graduated from Savannah State University with his BA in Marketing. Jason has been featured in Forbes, Discover, and Investopedia.