How Long Does it Take to Sell An Item on eBay: My Average Sales Time on eBay
This post may contain affiliate links. Feel free to view my disclosure 
here.
I was messaging back and forth with a friend a few weeks ago when she asked me a good question. She asked me what my average sales time on eBay was. I honestly had no idea. I decided to do some research and find the answer. I looked over the last 50 items that I sold. My numbers surprised me a little bit. Before I get into the numbers, let me go over the items.
Looking at the last 50 items, I was able to see what items had been popular sellers. The items sold from October 29th to December 11th. The top things that sold were:
Clothes – 10 items
Jerseys – 7 items
Shoes – 6 pair
Mugs – 5 items
Books & Board Games were both at 4
I was a little surprised that clothes were my most popular item. I knew jerseys and shoes would be on my top seller list, but I didn't think that clothes would be number one. Looking at my recent sales shows me what items I need to focus on. It seems like I should possibly start listing more clothing and stop selling certain things. As a matter of fact, I will definitely start looking for more clothes (jerseys, shirts, hoodies, etc.) to flip.
Sales Time
Are you ready to see what my average sales time on eBay is? Here goes. In total, the 50 items were listed for 11,255 days. Next, I divided the number of days (11,255), by the number of items (50). Using that calculation, it takes my items 225 days to sell. That is a hell of a long time. Thank goodness I have a lot of items in my store. Let's get deeper though. You'll see why I'm not too worried about it taking 225 days to sell an item.
I decided to group the 50 items by timing to get more details. Below is the next separation:
0-30 Days – I had 4 items sell within a month.
30 – 100 Days – I had 16 items sell during that time frame.
101 – 200 Days – I had 11 items sell during that time frame.
201 – 365 Days – I had 7 items sell between this time period.
365+ Days – Last but not least, I had 12 items take over a year to sell. That's crazy.
Looking at these numbers, I see that the majority of my items sell between 30-100 days. That's actually pretty good. Something else that I took note of was that my second highest sales came from items that I've had for over a year. That's another good thing because I've been trying to get rid of my older items. I took updated pictures, changed the titles, and updated or added more to the item descriptions. Apparently, it's working.
If I removed those 12 items from this tally, the number of days listed would go from 11,255 to 4588. If I divide that number by 38, it comes out to 120 days. That would make the average time 4 months to sell an item. That's much better than 225 days. I still have work to do to get the time lower.
The item that took the longest was listed for 934 days. That was damn near 3 years. The item that sold the quickest only lasted for 6 hours.
My goal now is to get my average sale time on eBay down to under 100 days. I know that it can happen.
How will I do it?
I plan on doing that by sourcing more items that will sell faster. I'll be checking different brands and or sizes as well. Besides going to thrift stores, I'll be sourcing in other places. I'll be finding things online, going to yard sales, auctions, and estate sales. That way I'll be able to increase this inventory and hopefully sell things quicker.
I also plan to make my pricing even more competitive. I have a habit of listing some of my items high. I try to get a bang for my buck, Instead of trying to make 5-6 times as much for an item, I will shoot for 3-4 times as much. I realize that some of the high prices are a turn-off to some of the buyers. With those prices being a little lower, I know that things will sell quicker.
Finally, I plan on cross-posting even more items. I will list more of my items on different platforms. In February, I'll be starting something that I'm calling the 7 weeks of cross-posting. For each week (for 7 weeks), I'll be going over a different online platform that you can list items on. It's going to be dope. Make sure that you look out for the series.
Doing those things will help me increase my average sales time on eBay.
Check out the free webinar, eBay for Starters
Need help with eBay, check out the following blog posts below:
How I Made $5800 Selling Other People's Shit Last Year 
In 2018, I started to get more serious when it came to flipping items online. I got out of my comfort zone and started selling more. Because of that, I was able to make $5800 that year flipping. In this post, I go into detail about how I was able to make it happen.
What to Sell on eBay: 45 Items to Flip Now
If you find yourself stuck when it comes to finding items to sell online, you are in the right place. In this post, I share with you 45 items that you can flip today. Many of these items are things that I've personally sold.
30 Interesting Things Sold on eBay
When you think about things that people sell on eBay, you probably think about stuff like electronics, jerseys, clothing, and shoes. Those are not the only things that people sell on eBay. I looked online and found 30 interesting things that sold on eBay. I was shocked to see a couple of the things that made the list.
Where to Get Inventory For eBay
You may be interested in selling things on eBay, but you're not sure where to find items. This post features several places where you can get inventory for eBay.
Also, join my Facebook group, My Money Chronicles, Inner Circle.  We discuss eBay and other side hustles.
Have you figured out what your average sales time on eBay is?
If you like eBay like I do represent and grab this shirt today.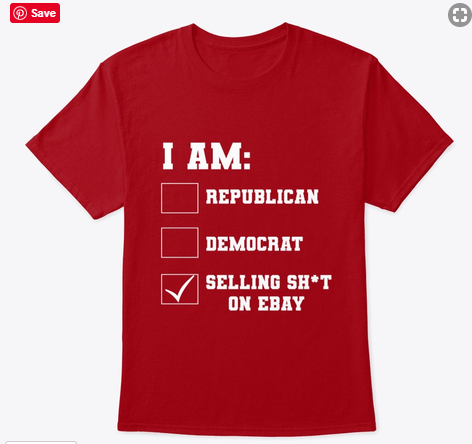 Follow Me