10 Unique Alternatives to Teespring
This post may contain affiliate links. Feel free to view my disclosure 
here.
Teespring is a company that allows its users to create and design custom products like t-shirts, which they can sell to customers. The website doesn't just deal in shirt designs alone. They also have another 50 plus products with which users can make money. The best part of Teespring is that it is free, in that you do not have to pay an upfront payment or take any risks.
Teespring has been in the market for over nine years and drastically increased in popularity from a lot of users. This is due to the user-friendliness of the website and how easy it is to navigate. Teespring aids users during their design process by providing suggestions and lots of tools to make sure the design comes out great. The website handles the printing and shipping of the product and the user makes money from the profit of the sale. So as a Teespring designer, you can make money customizing t-shirts, hoodies, and even children's clothing.
Teespring is not only built for sellers but also buyers. If you wish to purchase customized products with thousands of choices to choose from or perhaps even one made just for you, then Teespring is the place to go.
Although Teespring might be one of the most popular print-on-demand websites out there, there are a lot of other alternatives that would work well for you. In this article, we will be counting down some pretty cool websites and companies that could serve as some alternatives to Teespring. Let's get started with the first one.
1. Redbubble
Redbubble is another website that offers large arrays of customized products from t-shirts to hoodies and customized mug cups. The company made its debut in the marketplace in the year 2006. It has since then continued to grow in its number of users and services offered. The company had a pretty humble beginning as a platform for independent artists to show and sell their work but it has since then grown and it's now made up of thousands of artists, designers, and illustrators who make money for using the platform to sell customized products.
Redbubble has a lot of talented artists who ensure to provide you with quality work that is worth purchasing this is why they are among the top three print-on-demand services worldwide. Their products are top-notch and worth purchasing from. You could also make money by uploading your designs to the website and Redbubble will take care of the rest. You get to keep the copyrights on your products and you also get to pick the price of your product.
2. Zazzle
Zazzle is another print-on-demand company that is just as cool as its name sounds. It was founded by a group of talented artists back in the year 2005. Zazzle has some amazing products and designs that range from hoodies to t-shirts. Their efficiency and quality have won them collaborations with top brands like Disney and Hallmark. Zazzle provides you access to high-quality designs and images that can be printed over 50 products. It also allows you to edit designs to your taste and likeness.
Zazzle is worth trying if you're a fan of high quality and colorful designs and you could also make money from the website as an artist.
3. Café Press
Café Press is just another website just like Teespring that offers a wide range of customized products ranging from tee shirts, shoes, and tech products, all available for low prices at the touch of a button for affordable prices. It was founded in 1999 in California. The company allows users to upload the image they need to be customized and it would be added to the desired product. It doesn't matter if you're a mom, dad, student, or techie; the Café Press has everything you need.
One of the cool features of Café Press is the fact that they have a section for occasions that allows users to purchase customized products for whatever occasion they want like birthdays and weddings or during holidays like Easter or Halloween. They also have amazing customer service that cares about your problems and is willing to help you fix them.
4. Blue Cotton
Blue Cotton is another user-friendly website for customizable items. It's just as good and efficient as Teespring. Blue Cotton is very customer-conscious in its design and service. Once you make use of their services, you will most like to use them over and over again. Their custom products range from artworks, clothes, and even bags. They are fast in email replies to customers, they are fast in shipping and their quality is top-notch.
5. Spreadshirt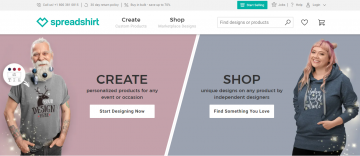 Just like the name, Spreadshirt is another company that allows you to print your desired design on almost any item you want. They don't just let you print on demand, but also offer shipping services. To use Spreadshirt, all you have to do is get on the site and begin to explore. The website allows you to use some of the templates and even gives you creative freedom by allowing you to begin afresh. You don't need to learn design software in order to make your own designs. You can print on items like shirts and hoodies.
If you create a design and it is ordered by a customer, the company helps in the packaging and shipping of the product and you get paid for it. The product can also be tracked by the customer till it gets to his doorstep. You can also add to Amazon and eBay to improve your sales making this one of my favorite alternatives to Teespring.
6. Teemill
Teemill is a fast-growing company that offers printing services like Teespring. They have created a beautiful website where you can create an online store to design and sell custom tee-shirts, hoodies, and even trousers. They have a very efficient service; they do not only power your store but also take care of the printing and shipping of the products. You get to keep the profits from each sale made. So the more sales you make the more money you earn.
As a customer Teemill, you get to enjoy fast and efficient service that allows you to return a product when it is worn out and it can be recycled. Their products are made and packaged with natural materials.
If you are looking for an eco-friendly alternative then Teemill works just fine.
7. Merch by Amazon
Next up on the list of Alternatives to Teespring is Merch by Amazon. They offer design and printing services on products like t-shirts, hoodies, tank tops, and other items globally. Their designs are of high quality, they have a fast shipping and delivery service and they value their customers. Their products are also affordable.
To make use of Merch, all you have to do is go on the website and upload your custom designs on the website, and put them up for sale. When a customer orders these products, you get a percentage of the sale. The best part is that you don't have to do anything but wait. Merch handles the printing and shipping of the products to the customer, and it's all free.
The better your designs are, the more likely you are to make money. It is not a get-rich-quick scheme and takes time to make money on there. But if done right you could easily make thousands.
8. Society6
Society 6 was created by 6 talented artists back in 2009, hence the name Society6. Although the company was started by six artists it has grown widely with over 100 artists from all over the world who are ready to design and customize products. Society6′ designers are extremely talented, with unique and quality designs.
The company customizes a wide variety of products from yoga mats, cushions and tee shirts, and other items. Society6's designs are very affordable as they are sold at discounted rates. They also handle the printing of the products and are ready to deliver to any part of the world.
9. Printful
Printful is a unique platform on the alternatives to Teespring list. It is one of the most top-rated print fulfillment companies out there. They allow you to create custom designs on t-shirts and other items. You can build a brand following by setting up an online store. Once you get a sale, Printful prints, packs, and ship your orders for you.
10. Bonfire
Bonfire is an online marketplace for customized t-shirt sales. It can be used to raise funds as a fundraising tool to promote your cause or event. You can design t-shirts on the website to raise money for your cause and gain support online. There is however a minimum number of shirts that must be sold before they are printed and delivered to those who ordered them. The profits from the sales are sent to the organization. It is best for NGOs and fundraisers.
There are lots of alternatives to Teespring that basically offer the same services in different ways. It's up to you to make your choice and pick the one that works best for you.