How to Sell on Poshmark: Poshmark for Beginners
This post may contain affiliate links. Feel free to view my disclosure 
here.
We are in week three of the 7 weeks of crossposting. I talked about Craigslist & Mercari during the first two weeks. This week, I'll be going over how to sell on Poshmark. The popularity of Poshmark has skyrocketed over the last couple of years. Some people do pretty well on there, while others don't even know what Poshmark is. I've been selling on Poshmark for a little over three years now. It's one of my favorite apps to sell items on. In today's post, I'll be sharing information about Poshmark for beginners. I'll even show you how to list your first item.
What is Poshmark
According to Poshmark's website, they are the largest social commerce marketplace for fashion. They have over 2 million sellers at the moment. I opened my Poshmark account in 2017. I literally did nothing with it for a few months. I eventually made my first sale in 2018. Last year, I started taking it more seriously and added a lot more items.
Selling on the platform is pretty easy. Here is some basic information that will help you get a better understanding of Poshmark.
Categories
Poshmark has four categories that you can list your items in. They are women, men, kids, and home. With the women, men, and kids categories, you can list items such as shirts, shoes, blazers, sweaters, pants, jackets, bags, and more. In the home section, you can add things like party supplies, bath items, dining, kitchen, wall art, and more.
When you are first starting with Poshmark, I suggest that you start with what you know. I know a lot about sports, so I listed jerseys in the beginning. My first sale was actually a Washington Nationals Bryce Harper jersey. If you know jeans, you can list them, or if you know purses, list them. Selling things that you know about will help you get those first few sales.
Fees
Poshmark fees are straight and to the point. If your item sells for under $15, the fee is $2.95. If it sells for over $15 the fee is 20%. It's a little higher than some sites, but I don't have a problem with it. These fees are only charged when an item sells.
Shipping
Shipping is a flat fee. It's $7.11. The buyer pays that. Once you sell an item, Poshmark will email you a shipping label. You will then need to print the label. Next, tape the label on the package and take it to the post office. You use any regular brown box or USPS priority boxes. This is one of the best things about Poshmark. You don't have to stress and worry about charging the buyers for shipping since Poshmark takes care of it. I know a couple of people that only sell items on Poshmark for this reason.
Sharing
Poshmark has a small social media type feel to it. They encourage you to share listings. You can share your own listings with your followers multiple times per day. Doing that will allow them to be seen more frequently. You can also share other sellers' items as well. Doing that will get you more followers and more potential buyers. I try to share my items at least once a day.
Posh Parties
This next tip is helpful when it comes to Poshmark for beginners. Posh Parties are virtual shopping parties that people have on the app. There are several each week. The parties allow buyers to shop for a specific brand or item. For example, someone may host a Nike Posh party. Sellers are encouraged to share only Nike items to the party. The parties are another good way to get more sales.
Protection & Payment
Poshmark is one of the safest online platforms to use. You're protected with Posh payment. Posh payment protects buyers. It's a guarantee that the item that they purchased is the one that they received. Once the buyer receives the item and updates that info in the app, the funds will be released to the seller. That happens within three days of the item being delivered. The funds are then deposited into your Poshmark account. From there, you can transfer it to your bank account.
How to Sell on Poshmark
Download the App
If you haven't downloaded the Poshmark app, do so now. Use my link here. You can earn $10 just for signing up today!
Pictures
As with any online selling platform, you should take great pictures. Make sure that the ones you take are clear and have decent lighting. You want to make sure that you take shots from different angles. Poshmark allows you to add up to 8 photos of the item. For most items, you will want to use all 8 photos.
Title & Description
Make sure that you create accurate titles and descriptions for your items. Be 100% honest. If there are some minor issues such as a stain that won't come out or a missing button, include that info in the listing. If someone wants an item, they'll purchase it even if there is something wrong with it.
Share
As I stated earlier, make sure that you are sharing your items. Some people do it several times a day. I try to get my shares in once a day. I may start to do it once in the morning and once in the evening. That may help me sell more items. At the end of the day, that's what it's all about.
Sold
Once your item sells the shipping label will be sent to you. Print the shipping label and take the package to the post office and ship. It's best to ship your item within 2 business days.
Do you see how easy that was? You will be a pro at Poshmark in no time.
How Does Poshmark Work
Now I want to show you how I list an item.
Get the Poshmark app here.
Log in to the app and tap the sell button at the bottom in the middle.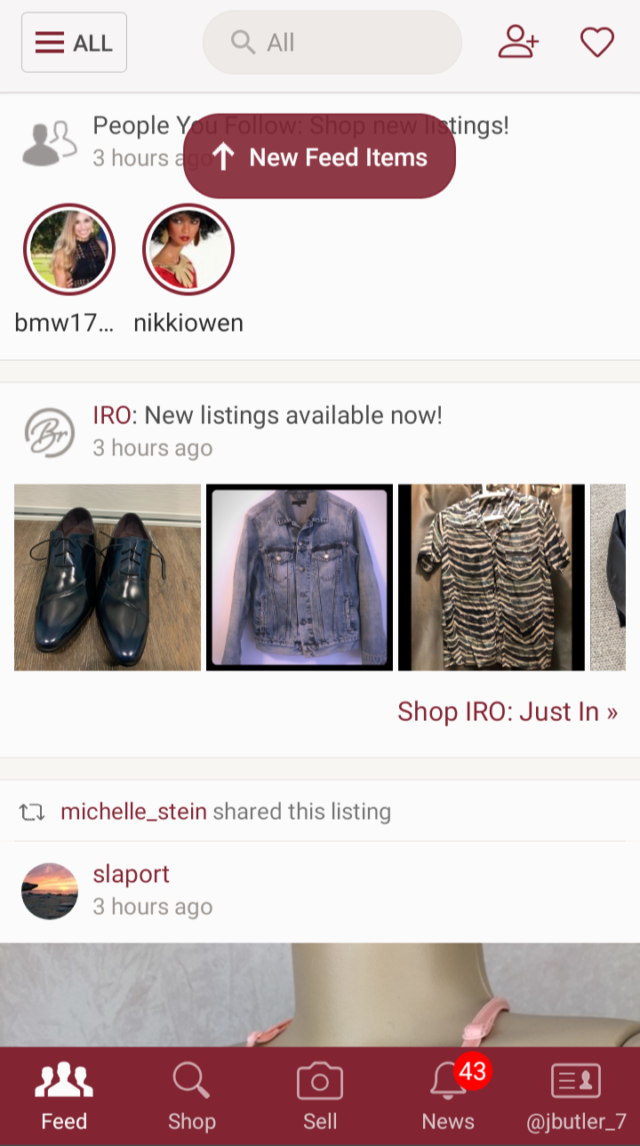 This is what it looks like after you tap the button
Next, add your pictures
Once you add the pictures, you can choose a cover shot. It should be the best picture of your item because it will be the first one that people will see.
List the details. The next three images show the details section. It includes the description section, the category, the quantity, the size, the brand, the color, whether it's new or used, the price, and the earnings that you will make.
List/Share.  Last but not least, you list the item by tapping the "list" button at the top right. You can also share your listings on Facebook, Pinterest, Twitter, & Tumblr if you want to.
You're done! That took a few short minutes to list an item. Anybody can take about 20 minutes a few times a week to get your Poshmark listings up. I hope that you're ready to start crossposting your items today. After reading this, I'm sure you now know how to sell on Poshmark. Make sure that you share this post with anyone else that is thinking about selling on Poshmark.
Have you sold on Poshmark before?
Below are the previous posts from the 7 Weeks of Crossposting.
Week 1: Selling on Craigslist
Week 2: How to Sell on Mercari