The Ultimate Atlanta Airport Guide
This post may contain affiliate links. Feel free to view my disclosure 
here.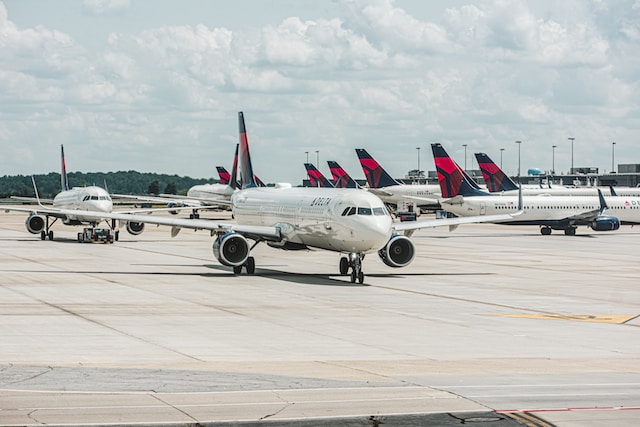 Hartsfield-Jackson Atlanta International Airport, aka the Atlanta Airport, is more than just a travel hub. It's one of the busiest airports in the world, connecting people and places. It's a gateway to endless possibilities with two main terminals and seven concourses. Whether you're a seasoned traveler or embarking on a new adventure, this airport is where journeys take flight. It's not just about the destination but the experience along the way.
The Ultimate Atlanta Airport Guide
Getting to and From the Atlanta Airport
Hartsfield-Jackson Atlanta International Airport offers a variety of transportation options. Shared-ride shuttles are available for local travel, with specific pickup locations at domestic and international terminals. Regional shared-ride shuttles also provide service to areas outside the metro Atlanta counties.
Hotel shuttles are another convenient option, with many surrounding hotels offering free service to and from the airport. Off-site parking is available at the international terminal, and several companies provide this service.
Limousines and taxis are ready to serve passengers at designated pickup locations. The airport has over 200 limousine companies, and taxis offer the central business district a set fee.
Rideshare services like Uber and Lyft have specific pickup locations at both terminals. Local public transit is operated by the Metropolitan Atlanta Rapid Transit Authority (MARTA), with trains and buses connecting the airport to the city.
The Rental Car Center houses 12 rental car brands, accessible via SkyTrain. This electric-powered system also connects to nearby locations, including hotels and the Georgia International Convention Center.
Greyhound Flightlink provides transportation to selected cities and states, and the airport also offers between terminals and Rental Car Center shuttle service, running approximately every 15 minutes.
Parking Facilities
Hartsfield-Jackson Atlanta International Airport offers a range of parking options to suit every traveler's needs. Short-term parking is available for picking up or dropping off passengers. It's located close to the terminals, making it a convenient choice.
Long-term parking is designed for travelers who need to leave their vehicles for an extended period. It's a cost-effective option with regular shuttle service to the terminals. The airport's long-term lots are secure and well-lit.
Economy parking is the most budget-friendly choice. While it's a bit further from the terminals, regular shuttle service ensures a smooth connection. It's an ideal option for budget-conscious travelers.
For those looking for a touch of luxury, the airport also offers valet parking. Drop off your car, and the valet service will take care of the rest. It's a hassle-free option that adds a bit of comfort to your travel experience.
There are also designated parking areas for individuals with disabilities. These spaces are located near the terminal entrances, and shuttle service is available if needed. The airport ensures that all travelers have access to convenient and accessible parking options.
Airport Terminals
Hartsfield-Jackson Atlanta Airport is bustling with activity, being one of the busiest airports globally. It's divided into two main areas: the Domestic Terminal and the Maynard H. Jackson Jr. International Terminal.
The Domestic Terminal serves passengers traveling within the United States. It's located on the west side of the airport and connects to the concourses via the plane train and an underground pedestrian walkway. The Domestic Terminal is the hub of the airport, offering various amenities. The International terminal is located on the east side of the airport.
The Atlanta Airport has several concourses.
Concourses A-D – 135
Concourse T – 21 Gates
Concourses E and F – 40 Gates
Getting Between Terminals
To move between the Domestic Terminal and Concourse T, passengers can take the SkyTrain. It runs every 2-3 minutes and takes about 5 minutes to travel between terminals. Passengers can use the underground pedestrian walkway or the Plane Train to get between the concourses. The Plane Train runs 24/7 and is one of the fastest ways to get between the concourses.
Security Checkpoints
Hartsfield Airport has multiple security checkpoints. The domestic terminal has three: North, South, and Main. The international terminal has two: West and East. Each concourse also has at least one security checkpoint.
Fast Track Lanes and Locations
For expedited security screening, passengers who are members of TSA PreCheck or Global Entry can use the fast track lanes. These lanes are located at all security checkpoints throughout the airport.
Baggage Claim Areas
Multiple baggage claim areas are located in each concourse. They are easily accessible and well-marked with signs.
Luggage Cart Availability
Luggage carts are available throughout ATL. They can be found in the baggage claim areas, parking garages, and near the entrances of each concourse. The cost to rent a luggage cart is $6.
Luggage Storage Locations
Hartsfield Jackson Atlanta Airport does not offer luggage storage or left luggage services. There are several luggage storage companies located near the airport.
Dining and Shopping
The airport is bustling with a wide variety of food and shopping options. Whether you're in a hurry or have time for a meal, you'll find something to suit your needs.
Fast Food Chains
Numerous fast food options are available throughout the terminals for those on the go. You'll find Popeyes, Burger King, and IHOP in the Atrium/Domestic Terminal, Bojangles in Concourse T, Chick-fil-A, McDonald's, and Shake Shack in Concourse A, and many more options across other concourses.
Upscale Restaurants
If you have more time, you can enjoy a meal at one of the airport's upscale dining establishments like Atlanta Chophouse in the Atrium/Domestic Terminal, One Flew South in Concourse E, or various options in Concourse F such as Ecco and Jekyll Island Seafood Company.
Cafes
Cafes are scattered across the terminals for a quick coffee or snack. Starbucks is available in multiple locations, and you'll find Coffee Bean and Tea Leaf in Concourses T, A, and D, among other options.
24-Hour Options
The information provided does not specifically mention 24-hour food options. However, many airports have certain establishments that operate around the clock. Check with the airport's official website or contact them directly to get accurate information on 24-hour dining options.
Shops
Alongside dining, plenty of shops sell everything from souvenirs to luxury goods, so you can pick up a last-minute gift or treat yourself to something special. Look for Atlanta Business Chronicle and All ATL for souvenirs, Paradies Shops and ATL Shops by Hudson for general shopping and specific gift shops like Piedmont Park Travel Mart and Panda Veranda.
The airport's layout ensures that these options are easily accessible, and you'll find something to satisfy your hunger no matter where you are. From fast food to upscale dining, cafes to 24-hour options, and various shopping choices, Hartsfield-Jackson Atlanta International Airport offers many amenities to enhance your travel experience.
Lounges and Relaxation Areas
Hartsfield-Jackson Atlanta International Airport offers a range of lounges and relaxation areas to cater to the diverse needs of travelers. Whether you're looking for a quiet place to work, a comfortable, relaxing spot, or exclusive perks like showers and premium drinks, you'll find a lounge that suits your needs.
Delta Sky Club
Located across Concourses A, B, C, D, E, F, and T, this lounge offers Wi-Fi, meals, snacks, a bar, showers, and even a Sky Deck outdoor viewing area. Access is available to Delta Sky Club members, first or business-class passengers from SkyTeam airlines, and certain credit cardholders.
The Club at ATL
Situated on the Mezzanine floor of the international terminal, Concourse F, this lounge provides workstations, refreshments, showers, and more. Access is granted through Priority Pass, Lounge Club, or Diners Club membership, online booking, or paying at the door.
Admirals Club
Found across from gate T11 of the North Terminal, this lounge offers Wi-Fi, made-to-order meals, house drinks, and conference facilities. Access is available to Admiral Club members, first or business-class passengers from American Airlines, or paying at the door.
Minute Suites
Available 24 hours a day next to gates B15 and T8, Minute Suites offer a private space for relaxation or work. Further details can be found at the designated location.
United Club
Located in Concourse T, between gates 11 and 12, this lounge offers breakfast, snacks, drinks, and more. Access is granted to United Club members, first or business-class passengers from United Airlines, or paying at the door.
USO Lounge
Situated in the Domestic Terminal atrium, this lounge offers coffee, tea, snacks, and light meals. Access is exclusive to active military personnel and their families.
These lounges provide a respite from the airport's hustle and bustle, offering various amenities to enhance your travel experience. Whether you need to catch up on work, enjoy a meal, or unwind, the Hartsfield-Jackson Atlanta International Airport lounges have something to offer for every traveler.
Accessibility and Special Assistance
Hartsfield-Jackson Atlanta International Airport is committed to providing a comfortable and accessible experience for all travelers, including those with disabilities or special needs. Here's a detailed look at the facilities and services available:
Wheelchair Assistance
Airline representatives are on hand to provide wheelchair assistance. Passengers can contact their airline directly to reserve a wheelchair, and special arrangements can be made for drop-off during late hours.
TSA Cares Assistance
This helpline is available for travelers with disabilities, medical conditions, and other special circumstances. Call toll-free at 855-787-2227 for information about screening policies and procedures.
Sensory Room for Passengers with Autism
Located on the exit level of Esplanade F, this multi-sensory room offers a calming environment with interactive items. Access can be obtained from any Delta Check-in counter or the information desk at exit F.
Ground Transportation
Private transportation services, including taxis, limousines, and shuttles, are equipped to assist people with reduced mobility. Contact companies directly for special assistance or wheelchair lift/ramp-equipped transportation.
Bus and Rail Transport
MARTA and Greyhound intercity bus services offer accessibility features such as elevator access and assistance for customers with disabilities.
Adapted Parking
Parking for passengers with disabilities is available in all areas, with free, wheelchair-accessible shuttle bus service to the domestic terminal from the Airport Park-Ride facility.
Adapted Restrooms
All bathrooms are fully equipped for wheelchair access, and unisex family restrooms are found throughout the airport for those traveling with an attendant.
Service Animal Relief Areas
Indoor Service Animal Relief Areas (SARA) are located near various gates, and there's a 1,000-square-foot dog park in the Ground Transportation area. An additional pet area is located on the arrivals level of the International Terminal.
TTY/TDD Phone Locations
Telephones are at all information desks in lobbies E and F and the national terminal.
These facilities and services ensure that passengers with disabilities or special needs have a smooth and comfortable experience at the airport. Whether it's wheelchair assistance, adapted restrooms, or special transportation arrangements, Hartsfield-Jackson Atlanta International Airport has taken measures to accommodate all travelers.
Security and Customs
Security Procedures
Hartsfield-Jackson Atlanta International Airport follows standard TSA guidelines. Passengers should arrive at least 2 hours prior to domestic departures and 3 hours prior to international departures. Peak times are usually between 5 a.m. and 9 p.m., especially around holidays and long weekends.
Hours of Operation and Locations
Various security checkpoints with different hours of operation are available. Domestic Terminal Main offers standard screening 24 hours, while other terminals have specific hours for standard screening, Priority Screening, TSA PreCheck, and CLEAR.
TSA PreCheck
This expedited program allows travelers to keep shoes, belts, and jackets on and leave 3-1-1 compliant liquids and laptops in bags. The Enrollment Center at ATL is located post-security on Concourse A.
CLEAR
A biometric-based program that allows passengers to enter dedicated security checkpoint lanes. Enrollment is available online or in person at CLEAR enrollment pods in the Domestic Terminal.
Additional Assistance
Contact TSA Cares 72 hours prior to your flight for further assistance.
Customs and Immigration
Deplaning
Passengers exit the flight at Concourse E or F. Atlanta-bound passengers continue to customs and immigration at F, while connecting passengers go through customs and immigration at the concourse where they land.
Passport Control
Most passengers no longer need to fill out blue declaration forms. Automated kiosks and the TSA's Mobile Passport app can be used. Global Entry members follow signs to the Global Entry kiosks.
Baggage Claim
To collect luggage, proceed to a special smaller baggage claim area. Free carts are provided.
Customs
Enter the customs hall, where agents may ask questions or let passengers walk through.
Baggage Check for Travelers with Connecting Flights
Connecting passengers drop off bags at assigned carousels and proceed to security. Atlanta-bound passengers keep their bags and exit the airport.
Security for Travelers with Connecting Flights
Stringent security checks are in place. Duty-free alcohol purchased in secure bags can be brought in carry-on baggage.
Connecting Flights
Proceed to the gate for the connecting flight. The process usually takes 30-45 minutes but can take longer at peak times or for non-citizens/residents.
Additional Information
Shuttles are available for transportation to MARTA or rental car centers from Concourse F. Taxis and specific hotel shuttles are also accessible.
These security and customs procedures ensure a smooth transition for domestic and international travelers. Whether you're a frequent flyer or a first-time visitor, understanding these processes can help make your journey through Hartsfield-Jackson Atlanta International Airport a breeze.
Art and Exhibits
ATL Airport Art Program
The airport commissions site-specific artwork produces and curates rotating exhibits, and manages performances and artist programming. With over 1,000 paintings, it's one of the largest public art sites in the Southeastern U.S.
Artwork Spotlight
"Good Trouble: A Tribute to Congressman John Lewis" is a prominent feature. Located on the east side of the Domestic Terminal atrium, it includes artifacts, videos, photos, and a 22-foot-long painting by artist Alexi Torres.
Collection Highlights and Recent Additions
Before security, you can find exhibits like "Georgia on My Mind," "Natural Wonder," "Martin Luther King, Jr. Tribute Wall," and more. Rotating exhibits showcase selections from various galleries and museums.
History and Direction
The art program began in 1979 with the construction of the Domestic Terminal. It was revived with new artworks commissioned for the 1996 Centennial Olympic Games. The program has received awards and continues to expand with future projects.
These art and exhibits add a cultural dimension to the airport experience. Whether you're an art enthusiast or just looking for something to pass the time, the diverse collection at Hartsfield-Jackson Atlanta International Airport offers something for everyone.
Technology and Connectivity
Free Unlimited Wi-Fi
The airport understands the need to stay connected. That's why free unlimited Wi-Fi is available. Simply connect to the "ATL Free Wi-Fi" network, and you're good to go.
Mobile Charging Points
Keeping your devices charged is essential. You'll find Fuel Rod Chargers at various gates, Delta Seat Chargers in multiple locations, and Verizon Charging Stations at specific points. You won't have to worry about running out of battery.
Additional Tech-Related Amenities
If you need to catch up on work, there's a Business Center in Concourse T, open 24 hours. Need a SIM card? They're available intermittently at InMotion stores and a red vending machine near F10.
The airport's tech-friendly environment ensures that you'll have all the tools you need, whether you're working on the go or just keeping in touch with friends and family. It's just another way the airport makes your travel experience a little more comfortable.
Conclusion
Hartsfield-Jackson Atlanta International Airport is more than a mere travel hub; it symbolizes connection and opportunity. From its intricate terminals to its wide array of amenities, it is a gateway to the world. Whether you're a seasoned traveler or embarking on a new adventure, ATL is where journeys take flight.
The airport's commitment to accessibility, technology, and art reflects the spirit of innovation and hospitality that defines Atlanta. With state-of-the-art facilities and a rich array of dining and shopping options, it ensures every traveler's comfortable and engaging experience. It's not just about getting from point A to point B; it's about the experience.
Hartsfield-Jackson Atlanta International Airport is a testament to modern travel, offering a seamless blend of efficiency, luxury, and connectivity. Your journey begins here, and it's bound to be an experience as memorable as the destination. It's not just an airport; it's a microcosm of the world, a place where endless possibilities take flight.
Jason Butler is the owner of My Money Chronicles, a website where he discusses personal finance, side hustles, travel, and more. Jason is from Atlanta, Georgia. He graduated from Savannah State University with his BA in Marketing. Jason has been featured in Forbes, Discover, and Investopedia.