The 35 Best Items to Flip For Profit
This post may contain affiliate links. Feel free to view my disclosure 
here.
So, you have a bunch of items that you want to sell. The problem is you want to make sure that you can make money on them. Don't worry; we've got you covered. Today, we will give you a list of the 35 best items to flip for profit. You can ship some of the items while you will have to meet up with the buyer for others. I'll also share different platforms where you can sell them.
Here are the 35 Best Items to Flip For Profit
1. Jordan Shoes
Jordan shoes are always super popular and easy to sell. It doesn't matter what size they are; you should be fine selling them online. Jordan's are always in demand, and sneakerheads are constantly scouring the internet for needed pairs.
2. Jerseys
If you're a sports fan, you know that jerseys are very popular. You probably have a few of them yourself. Everyone has a favorite sports team. You can make a pretty penny by selling your old jerseys. Sports memorabilia is always in demand. You can find a buyer for most sports jerseys nine times out of ten. Popular teams are the easiest to sell because they have the most fans looking to buy their jerseys.
3. Board Games
Board games are always a hit with kids and adults. If you have old board games, you should sell them. Board games have a lot of sentimental value and are always good conversation starters. Board game enthusiasts love playing games, and they'll pay up for a game they don't have in their collection.
4. Coogi Sweaters
Every hip-hop fan remembers when Coogi sweaters were all the rage. If you have one of these gems in your closet, you should flip it for profit. Coogi sweaters are a blast from the past, and they're worth a lot of money to collectors. Coogi sweaters were a must-have item in the late '80s and early '90s. This is one of the easiest items to flip for profit.
5. Hoka One One Shoes
Hoka One One shoes are a must-have for runners, hikers, and anyone who likes to go on a hike. These shoes are insanely comfortable and revered as some of the best running shoes you can buy. Hoka One One has a cult following as a hiking shoe, and runners love them for their versatility.
6. Plush Animals
Next up on the list of best items to flip for profit are Plush animals. Plush animals are extremely popular with children, especially if they're rare. Certain types are always in demand. These toys are not only fun to play with, but they're worth a lot of money. If you have a rare Pokemon or a special stuffed animal, you can expect it to sell quickly.
7. Bobbleheads
Bobbleheads are always a hit with sports fans because they have their favorite athletes in mini-form. These bobbleheads are usually cute and have a lot of character. It's all about the player regarding the value of your bobblehead. The more popular the player is, the more you should expect to get for their bobblehead.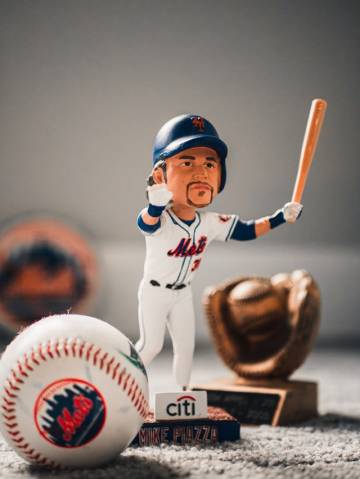 8. Dress Shoes
Dress shoes are the ultimate fashion statement for men. Almost every man has dress shoes that they wear only to the office or on special occasions. Brand-name dress shoes are easier to sell, but it all goes back to their condition. Buyers are searching for good deals on dress shoes; they'll snag yours if the price is right.
9. Records
If you have a record collection of your favorite bands or musicians, you should put those up for sale online. It's easy to find buyers for rare records, and they're worth a lot of money. People out there want music memorabilia, and records are always in demand.
10. CD Players
CD players are super popular with the older crowd because they have many memories attached to their favorite CDs. CD players are all but gone from the big chain retailers, and only a few places have these gems in stock. People need something to listen to the CDs with, and they're willing to pay a pretty penny for a CD player.
11. VCRS
VCRs are a blast from the past, and it doesn't take much to get them up and to run. Many collectors want cool relics from the 1970s and '80s, including VCR players. The VCR debuted in the 1970s, and it was cutting-edge technology then. 
How I Made $11,000 Selling Items Online in 2020
12. Couches
Couches and sectionals are always in demand and are worth a lot of money. Furniture is an easy sell; you should only list your best pieces. The selling point with couches and sectionals is that they're comfortable and functional for any living space. Someone who buys your sofa won't care if there are stains or rips as long as you're honest and it's reasonably priced.
13. Broken Electronics
People buy broken electronics all the time to repair and sell. This is one of my favorites on the best items to flip for profit list. It doesn't matter what the brand is; broken electronics will sell. If you have a broken television, computer, game system, or anything else, you should be able to find a buyer. Electronics such as smartphones, tablets, and computers are the easiest to sell to those who want to repair and flip them.
14. iPods
iPods are in demand because they're so dependable. Everyone remembers the first time they used an iPod, and there's no technology quite like it. Music enthusiasts and those who love listening to podcasts will snag your iPod immediately. The iPod is one thing that will always stay in style.
15. Toy Basketball Hoops
Toy basketball hoops have been around forever. They come in various sizes and styles but are super popular with kids and adults alike. Kids are always interested in cool toys, and these hoops are anything but boring. A toy basketball hoop is an easy sell if you live in an area where people have a backyard.
16. Overalls
Farmers don't only wear overalls; these days, Overalls are seen as a fashion statement. If you have a pair of overalls in your closet, you should put them up for sale. If they aren't stained or ripped and in good shape, a buyer will snatch them up fast.
17. Sports Hoodies
Sports fans will buy your sports hoodie if it's their favorite team. There are many sports fans out there that are into clothing, especially if it's from their favorite squad. Sports hoodies are preferred by NFL, MLB, NBA, and NHL fans because they're functional and fashionable.
18. Watches
Next up, we have an item that can be unique of the best items to flip for profit list. Watches are timeless pieces of jewelry that never go out of style. People will spend hundreds, if not thousands, of dollars on a single watch. It's all about the condition and the brand of the watch you're selling. Rolex is one of the biggest and most popular brands, but there are others that buyers will jump all over.
19. Christmas Items
Christmas is year-round for some people, and they'll be happy to acquire new or vintage Christmas decorations. If you have an unusual piece of Christmas decor, someone will likely buy it. If you're selling to people who aren't year-long Christmas enthusiasts, it's best to put your Christmas items for sale a month before the holiday because that's when people look for them.
20. Star Wars Items
Star Wars memorabilia is always a huge hit. The Star Wars franchise is popular with people from all walks of life. People are willing to pay a premium for Star Wars items because it's expected that they won't make them again.
21. Sports Cards
Sports cards are a massive hit with people who collect sports memorabilia. We all remember collecting baseball and other cards from our favorite sports teams. Sports cards can be worth a lot of money. We couldn't have a list of the best things to flip for profit without them. Take the time to organize and categorize your collection to get top dollar for them.
22. Blank VHS Tapes
Blank VHS tapes are still in demand, even though most people no longer record shows using a VCR. If you have a collection of blank VHS tapes or know where to get them cheap, list a few for sale and see what happens. You might stumble upon a few people in dire need of the tapes, willing to shell out quite a bit of money for them.
23. Hats
Hats are a staple in almost every man's wardrobe. Some guys can't go out in public without wearing a hat. Hats are a nice, quick, and easy item to sell. They're always in style, and they're simple to organize. If you have a collection of hats, you should remember that your chances of selling them are high if it's from a famous brand everyone recognizes.
24. T-shirts
T-shirts are another staple of fashion. T-shirts can sell for different amounts. Before you dump your t-shirt collection, research the history of your old t-shirts to see if any collectible brands are worth big bucks.
25. Old Cell Phones
What constitutes an old cell phone depends on your definition of old. Old could mean last year's model to some, while old might mean something that's 20 years old to others. You'll have a much easier time selling a phone that's a year old compared to one that's ten years old. However, some collectors or gadget lovers are always on the prowl for anything considered retro.
26. Tools
Tools are next on the list of best items to flip for profit. They're handy for both home and business owners alike. You can sell various tools, from power to screwdrivers to hammers. If you have a lot of tools, you should organize and take pictures before you sell them. Buyers like to know precisely what they're buying, and if you're selling it dirt cheap, they want to know that they're not getting ripped off.
27. Coffee Mugs
Coffee mug collectors are waiting for that rare or one-of-a-kind coffee mug. No one wants the same old boring coffee mug to get their morning cup of joe. Coffee mugs come in all different sizes and designs. If you have an unusual or vintage coffee mug, you can sell it for a high price.
28. Books
You can get top dollar if you have rare, collectible books or books that are simply out of print. People love to read, and they want to read everything. If you have a book that's super hard to come by, don't hesitate to put it up for sale. Even newer publications are worth selling if you have enough of them to earn you enough money to make selling them worthwhile.
29. Weights
Weights are a staple for any gym fitness enthusiast. If you have a lot of weight plates or dumbbells, you can put them up for sale. Even if you don't have a lot of fitness equipment, there are always people who would love to grab a few weights.
30. Chairs
You can sell patio, folding, or plastic chairs and other styles you have in your house. People will buy them as long as they're intact and reasonably priced. Kitchen table chairs and chairs for the dining room are the ones that will bring you the most money. A comfy recliner can be an easy sell if it's a major name brand and is in excellent condition.
31. Tables
There are a lot of tables that can be sold. People love to have end tables, side tables, coffee tables, and other smaller tables. You can also sell a dining room table or a kitchen table, or any other type of table you may have.
32. Dressers
Dressers are one of the most sought-after items in any home. They're versatile and serve many purposes. Dressers can be used for storing clothes, linens, equipment, and books, and they're still great for decorating your wall space. Everyone needs them, so people are scouring the internet for dressers to buy.
33. Ottoman
An ottoman is one of the most versatile pieces of furniture in any living room. They can be used to store blankets and pillows, offer guests extra seating, or even set drinks and snacks. Having one in your living room will make you look classy while providing the extra storage space your home needs. People are happy to buy used ottomans if the price is right.
34. Action Figures
Action figures are some of the most sought-after toys of all time. Many different companies have had their action figures produced over the years, but only a few have made them to the present day. G.I. Joe, Star Wars, Transformers, and many more have been made into action figures people want to buy.

35. Bicycles
Bicycles are more than just fun things to ride; they're a form of transportation for many. If you have a bike that's a collector's item or a high-end brand, you can sell it for top dollar. However, even if you don't have a bike from the biggest names, you can still profit from people looking to save money by buying a used bicycle.
Below are four places where you can sell your items.
eBay
I had to start this list off with eBay. I'd list most of the best items to flip on this site. Some people don't know it, but eBay does allow you only to allow local pickup for your auctions. This is good if you have an item too big to ship.
Facebook Marketplace
Facebook Marketplace is another option for you. You can also choose to ship or do local pickup for your items. Facebook Marketplace is growing in popularity, so I'd add my items there.
Craigslist
Craigslist can also be a great place to sell anything you don't need anymore. If you have something that you're willing to part with for cash and not looking to ship, Craigslist is the best option. You can use the website to post pictures and an item description and then cross your fingers that you'll get a buyer.
Poshmark
If you are selling a lot of clothing or small items, then Poshmark is for you. With this platform, you have to ship items. That shouldn't be a problem, though. Buyers pay for shipping, and Poshmark provides the shipping label to the sellers.
Sign up for Poshmark here.
You've just finished reading about 35 of the best items to flip for profit. So now you know what you can sell and where you can sell them. The only thing left for you to do is to start listing.
If you need help getting started with eBay, check out my free webinar, eBay for Starters.
Jason Butler is the owner of My Money Chronicles, a website where he discusses personal finance, side hustles, travel, and more. Jason is from Atlanta, Georgia. He graduated from Savannah State University with his BA in Marketing. Jason has been featured in Forbes, Discover, and Investopedia.