The 2023 Resellers Survey Results
This post may contain affiliate links. Feel free to view my disclosure 
here.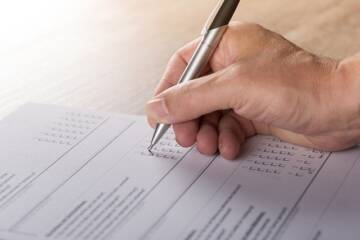 Selling items online is one of the best ways to make extra money. There are tons of platforms to sell things on, including eBay, Mercari, Poshmark, OfferUp, and Craigslist.
I've been selling items for the last few years to help eliminate my debt. I know other people who do it as well. I was interested in seeing which platforms they like, what items they sell, and other things, so I created a resellers survey.
I surveyed over 200 people in different Facebook groups. I asked them several questions. Let's start with the first one.
Question 1: What is your favorite online selling platform?
Out of the people surveyed, a whopping 77.4% chose eBay. Poshmark was 2nd at 11.3%
Question 2: How many items do you currently have listed?
40% of the people surveyed have between 81-300 items listed. The next highest amount is 1000+.
Question 3: How long have you been a reseller?
57.9% of the people surveyed have been selling items for 5 years or more.
Question 4: Do you crosspost items?
58.3% of people don't crosspost, while only 41.7% of folks do it. You're missing out on money for those who don't crosspost. The more places your items are listed, the more money you can make. Check out the video below that shows you how easy it is to crosspost your items.
Question 5: What is your go-to item?
I received tons of answers to this question. Some of them are listed below,
Health & Beauty
Shoes
Men's Clothing
Anything auto related
Smartphones
Electronics
Dresses
Makeup
Longaberger (I had to research this one.) Longaberger is a compact that's known for home decor and handcrafted items.
Check out this list that features 100 best things to sell on eBay.
Question 6: What do you think is the best platform to sell items on?
Again, eBay is ahead with 80%.
Question 7: What platform has the best customer service?
75% of the people surveyed say that eBay has the best customer service.
Question 8: Is there a platform that you wouldn't use?
52.6 % of the people said yes. 47.4% of the people said no.
Question 9: If you answered yes, to the previous question, tell us which platform and why (if you want to)
4 people listed Mercari. One person said that they've heard stories of Mercari holding people's money. (I've never dealt with that situation.) Someone else stated that Mercari needs better or more consistent customer service.
OfferUp also made the list twice. One person stated that they have privacy issues.
Someone else said Amazon. They said that the fees are higher and more complicated than eBay. They also said that their business practices are on the slimy side.
Question 10: Where do you source?
I was interested in seeing these results. Out of the people surveyed, 27% of the people get their items from thrift stores. Yard sales came in second with 20.1%, followed by Estate Sales.
Join my thrifting challenge today to make more money flipping. Sign up here.
Question 11: What items do you sell the most?
Out of the suggestions that I had listed for this question (clothes, shoes, electronics, toys, or books), none of them were #1. At 55%, "other" was number one. Clothes did come in second with 23.3%.
Question 12: Do you offer free shipping?
47.4% of the people surveyed said no. 31.6% said yes. 21.1% say it depends. Here are some of the things that it depends on.
Some people said that it depends on the size and how much the items cost.
Someone else said they'll offer free shipping if the item is over $1000.
Another person said that they offer free shipping on small items.
Question 13: Do you meet in person with buyers?
83.3% of the people surveyed stated that they do not meet in person with buyers.
Question 14: If you answered yes to the previous question, where are some places that you meet?
Police Station
Their other job
Local pickup designated area
Question 15: How do you personally feel about each platform?
You can check the images below to see the answers.
Question 16: If you ranked a platform badly, please tell us why?
Here are some of the reasons.
Mercari – Had issues with scammers and lowballers.
Craigslist – Too many scammers.
OfferUp – It has privacy issues.
Someone also said that they received texts in the middle of the night.
Someone else said that they didn't have any luck selling.
Another person stated that eBay is losing long-term sellers to Facebook Marketplace.
Final Question –  Is there anything else that you want to share about any platform?
Check out the answers that I received below.
"I hate how much eBay takes in seller fees. I just sold a card for $325 and ended up making $255."
"Facebook Marketplace is great for dropshipping."
"Poshmark charges the most for fees, but they have decent customer service."
"I Love eBay."
"No venue is perfect, and each one will elicit complaints of one variety or another. Amazon sellers often keep silent because too many have been banned from the site after posting negative comments. eBay sellers can say anything without any repercussions, which is a plus. However, most complaints originate because eBay doesn't support those who violate policy or provide poor CS. My fees are reasonable on eBay, about 12.5% in total, for the traffic eBay provides; the traffic is the 3rd highest globally. The top two are not venues I would use, so eBay gets my business and my vote for the easiest platform to use, offers continuing education in business & best practices, and offers exceptional CS through eBay for Business. Some sellers hate the CS because it doesn't support them when they're wrong."
"Facebook and Mercari are gaining ground on eBay."
There you have it. This is the end of the reseller survey. It was interesting to see how different people feel about the multiple platforms. If you have any questions about the survey, feel free to comment or email me at [email protected].
If you want to learn how to sell items on eBay, click on the free webinar here.
Jason Butler is the owner of My Money Chronicles, a website where he discusses personal finance, side hustles, travel, and more. Jason is from Atlanta, Georgia. He graduated from Savannah State University with his BA in Marketing. Jason has been featured in Forbes, Discover, and Investopedia.