How to Make Money on Teespring
This post may contain affiliate links. Feel free to view my disclosure 
here.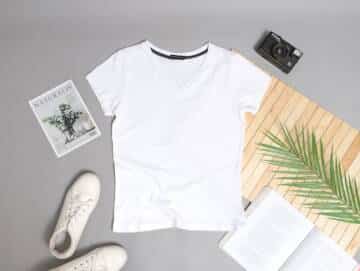 There are hundreds of side hustles to choose from. If you like designing things, selling merch can be a good idea for you. You can sign up for several places and sell your merchandise. One popular platform is Teespring. Today we will be going over how to make money on Teespring.
What is Teespring?
Teespring, also known as Spring, is an innovative platform that allows people to design and sell custom merchandise quickly. The platform offers a wide range of products, including t-shirts, hoodies, and mugs, making it easy for people to turn their ideas into reality. What sets Teeppring apart from other e-commerce platforms is that it's completely free to use. You don't have to pay upfront to create and sell your products.
When you create a design on Teespring, you set the product's price, and if someone purchases it, you'll earn a profit. The best part is that Teespring handles your printing, shipping, and customer service, so you can focus on creating and promoting your designs. This is a game-changer for creators who want to avoid dealing with the hassle of managing inventory or upfront costs. Spring also offers a risk-free option for creators, as you don't have to worry about taking losses for designs that don't sell, unlike traditional methods of creating and selling merchandise.
Teespring is an excellent platform for folks who want to turn their designs into tangible products without worrying about inventory and shipping logistics. It has a user-friendly interface and a cost-free model, making it accessible to anyone, regardless of their experience or background in fashion design.
How to Make Money On Teespring
Create Your Account
Getting started with Teespring is very easy. I'm going to go over the basics today. You need to create a free account. That should take less than 10 minutes to do. After you create your account, you will see the words start creating. Click on those words.
Design
After you click the words, you will be directed to the design area. The design area is where you will create your item. You can see that Teespring has multiple merch options. Since I'll be making a shirt, we'll click on that option. When creating a tee, you will have different options for the type of tee. Classic, comfort, and premium are three of the options that you have. Today's shirt will be a comfort tee.
On this screen, you can see options for designing your shirt. You can upload an image or add text to your design. You can change fonts and colors. You can also set your price on this page. When it comes to selecting your price, you want to make sure that you earn a good amount. If you list your shirts too low, you may only make $2-$3 per sale. I know you want a little more than that. 
You can upload your own image by pressing the box that says "add image."
After you add the design, Teespring will allow you to add the image to other kinds of apparel. They have tank tops, hoodies, v-necks, totes, mugs, and more.
Teespring has added many more products in the last couple of years. You can also make socks, phone cases, stickers, face masks, fanny packs, pillows, towels, blankets, and more.
If you're good with Photoshop, you should have no problem creating your images. If you're like me and struggle with making designs, you can find a designer on a site like Fiverr. I've used the same designer for the last few years. He's excellent, and his turnaround time is usually less than 48 hours.
Styles
On this page, you add the design title and the description. There is also a product preview on the right side of the image. If you decided to create multiple things, you would see them. Since I'm just doing one shirt, you will see that one.  
After you add the title and create a nice description, your item will be ready for launch.
Here is what your campaign looks like after you launch it. There is a tab where you can copy and share the URL. You can also view the listing and edit it.
As you can see, it's easy to list items on Teespring. You're not finished, though. Now you have to figure out ways to make money with Teesrping.
Promote Your Products
I'm sure you've heard the saying, "If you build it, they will come." That couldn't be further from the truth. Nobody will know that you have Teespring products unless you promote them.
Friends & Family
Reach out to your friends and family. Let them know you are selling products and see if they are interested in purchasing. They may purchase from you and tell their friends and family about your products.
Social Media
Today, most people have at least one social media account. If you have one, share your items on there. You can post them on Facebook, Twitter, TikTok, and Instagram. People are on these sites 24/7, so you might as well share your products with them.
Email List
If you have an email list, share it with them too. If you have a weekly or monthly newsletter, you can add a product section to include them. You can also send an email specifically for product launches. 
The more people that see your products, the higher potential for sales. 
Target a Niche Market
You can increase your chances for success by targeting a niche market. For example, if you want to sell shirts to people from Atlanta, you can promote and target them. If you're going to sell shirts to people, who like sports, you can do that. Targeting a specific niche can help you get some sales quickly.
When thinking about a niche, make sure it's popular or that many people know about. Keyword research can help you find niches. You can also check Google Trends and Exploding Topics for ideas.
Discounts & Promotions
Teespring allows you to create discounts and promotions to help you get more sales. You can enable a 10% off sale. You can also have a free shipping sale. Also, you can do holiday or monthly sales. It's all up to you. 
Collaborations
Collabing with other people is another way to make money with Teespring. You can create products together. Then you and your collaborators can share them with your perspective audiences. That will give you a wider reach which is always a good thing.
You should now be ready to start selling on Teespring. If you need more tips or ideas, check out my designs here.
One thing that I learned about Teespring is that most of your designs won't sell. You have to test out different things. Don't give up. You only need one design to sell consistently to bring in some extra money. 
Jason Butler is the owner of My Money Chronicles, a website where he discusses personal finance, side hustles, travel, and more. Jason is from Atlanta, Georgia. He graduated from Savannah State University with his BA in Marketing. Jason has been featured in Forbes, Discover, and Investopedia.