The Best Places for Baby Boomers to Retire
This post may contain affiliate links. Feel free to view my disclosure 
here.
Being a Baby Boomer is fantastic, especially after reaching the golden retirement years. You've worked hard, and now it's time to enjoy the fruits of your labor. We're diving into some of the best cities where you can kick back, relax, and truly make the most of your well-deserved retirement.
Who Are Baby Boomers?
Baby Boomers are a generation born during a period of increased birth rates that followed World War II. They grew up in a time of significant social change and have influenced modern American culture. From music and politics to business and technology, their impact is undeniable.
They came of age during significant movements like the Civil Rights Movement, the Vietnam War, and the Women's Liberation Movement. Many were activists and thought leaders, challenging the status quo and leaving a lasting legacy.
They value loyalty, work ethic, and a steady career path in the professional realm. They've witnessed the digital age unfold but also remember a time before smartphones and the internet. Financially, they've navigated various economic climates, making them adept at planning for retirement.
Lifestyle-wise, family and community are vital to them. Many are now relishing their retirement years, focusing on hobbies, travel, and quality time with loved ones. Health and wellness are also priorities, as they've benefited from medical advancements that have extended life expectancy.
How Old Are Baby Boomers?
Baby Boomers were born between the years 1946 and 1964. Doing a quick bit of math would place them between the ages of 59 and 77 as of 2023. It's a wide range, but it's the one that defines this influential generation.
This age group is quite diverse, spanning nearly two decades of births. That means Boomers have lived through various historical and cultural events, each shaping their perspectives uniquely.
While the term "Boomer" is often used as a catch-all, it's important to remember that the younger Boomers in their late 50s may have very different life experiences than those in their mid-70s. The age range itself is a testament to the generation's complexity and diversity.
The Best Cities for Baby Boomers to Retire In
You've put in the years; now it's time to think about where you want to spend the next exciting chapter of your life. Good news! We've got a list of cities perfect for Baby Boomers like us to settle down in during retirement.
These cities offer a mix of everything you could want. Think about cultural activities, outdoor adventures, and top-notch healthcare facilities. You won't be lacking in things to do or places to see, that's for sure.
Las Vegas, Nevada
You might think of Las Vegas as a place for high rollers and party-goers, but it's also a fantastic place to retire. The city offers endless blue skies and over 300 days of sunshine yearly. Imagine sipping coffee on your deck while watching the sunrise over the dusty blue mountains. It's a sight to behold!
The weather is more than just sunny; it's comfortable. Sure, summers can get hot, but the rest of the year is mild. And let's not forget, it's a dry heat, so you won't be dealing with the mugginess you'd find in Florida.
Outdoor activities? Las Vegas has you covered. From boating on Lake Mead to hiking in Red Rock Canyon, you're always close to an adventure. And if you're into golf, the city is home to 70 golf courses, many of which are championship-level. You can even get resident rates, making it an affordable hobby.
Foodies will feel right at home in Las Vegas. The city has evolved into a culinary hotspot with many gourmet restaurants. Whether you're craving Italian or New York deli food, you'll find it here.
Community is essential, especially as we age. Las Vegas has a thriving senior community with many clubs, classes, and activities. You'll never be bored, that's for sure.
Want to take a road trip? Las Vegas is within driving distance of many exciting places, including Southern California beaches and national parks in Utah. It's like having the best of both worlds.
Are you worried about taxes eating into your retirement savings? Nevada has no state income tax and low property taxes. Your hard-earned money will go further here.
And let's not forget the grandkids. Las Vegas has plenty of family-friendly activities, from water parks to arcades. Your grandchildren will love visiting you.
Phoenix, Arizona
Phoenix is surrounded by natural beauty, making it a dream for outdoor enthusiasts. You'll find more than 2,000 hiking trails across Arizona, and you can stay in the Phoenix area to hike Camelback Mountain. The National Park Service Senior Pass offers unlimited access to these wonders so that you can explore to your heart's content.
But it's not just about the great outdoors. Arizona is also kind to your wallet, especially if you're a retiree. The state has a flat income tax of 2.5%, and property taxes are among the lowest in the country. Social Security income isn't taxed, and veterans can fully deduct military retirement pay. This makes it easier to stretch those retirement dollars.
If golf is your game, Phoenix is your playground. With over 300 golf courses, you'll never run out of options. Courses range from upscale ones in Scottsdale to more budget-friendly options in Sun City. Variety, views, and value are the hallmarks of golfing in Phoenix.
Living in Phoenix doesn't have to break the bank. The average monthly cost for groceries is less than the national average, and healthcare costs are also more affordable. Living in Phoenix is quite budget-friendly. The monthly expenditures for someone 65 or older hover around $2,400. This makes the city a solid choice for retirees watching their pennies.
Community is a big deal here. Phoenix is home to Sun City, the country's first residential development for people 55 and up. The state has 151 active adult communities, offering a sense of community and many activities. Whether it's Sun City or another active adult community, you'll find like-minded folks to share this chapter of your life with.
Healthcare is a big deal as we age, and Phoenix doesn't disappoint. The average monthly healthcare cost for someone 65 or older is $512, lower than the national average. This is crucial for those who want quality healthcare without the hefty price tag.
From exploring Wild West towns and museums to enjoying mountains and lakes, there's no shortage of things to do. Whether you're a history buff or an adventure seeker, you'll find something that tickles your fancy.
Let's not forget the climate. With warm weather year-round, Phoenix is a haven for those looking to escape colder climates. It's not called the Valley of the Sun for nothing!
Phoenix isn't just about outdoor activities and golf. The city offers a rich cultural scene, from art galleries to theaters. So, if you're into the arts, you're in for a treat.
Getting around Phoenix is a breeze, especially if you prefer not to drive. The city has a well-developed public transport system, making it convenient to explore what Phoenix has to offer.
Tampa, Florida
Tampa, Florida, is more than just a vacation spot; it's a paradise for retirees. Imagine waking up to the sun shining almost every day and seeing beaches that are as welcoming as the locals. The city is surrounded by water, offering stunning waterfront views and many outdoor activities. Whether you're into kayaking, golfing, or simply lounging on the beach, Tampa has got you covered.
The weather is another big plus. It's warm most of the year, rarely dipping below 50 degrees, even in winter. But it's not just the weather and beautiful landscapes that make Tampa appealing. The financial benefits are hard to ignore. Florida is one of the few states with no personal income tax, which means your pension, IRA, or 401(k) income won't be taxed. Plus, Social Security benefits are tax-free. Some seniors may even qualify for property tax exemptions, depending on their income and how long they've lived in the state.
Healthcare is a top concern for many retirees, and Tampa doesn't disappoint. The city is home to Tampa General Hospital, which is highly ranked in various adult specialties, including diabetes and endocrinology, orthopedics, and more. Knowing that top-notch medical care is just around the corner is comforting.
When it comes to choosing a neighborhood, Tampa offers a variety. Bayshore Gardens offers waterfront views and plenty of eateries within walking distance. The Channel District is perfect if you prefer a more urban vibe, with high-rise homes and a bustling atmosphere. Davis Islands is ideal for those who want to live near the water in a more affluent setting.
But Tampa is far from a sleepy town. There's always something happening from the Florida Aquarium to the Amalie Arena, home of the NHL's Tampa Bay Lightning. The city's riverwalk is a pleasant place to stroll and explore dining and entertainment options. If you have grandkids visiting, they'll have a blast at the aquarium or the American Victory Ship and Museum.
Austin, Texas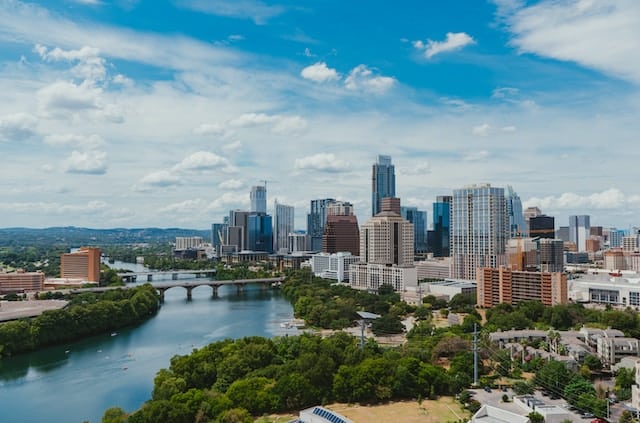 Austin, Texas. It's not just for the young tech-savvy folks but a haven for retirees, too. The city offers many activities like boating, golfing, and hiking. It's a place where you can feel a sense of community, with easy access to essential stores, hospitals, and banks.
Downtown Austin is a dream if you're into urban living. It's walkable, convenient, and close to local shopping and dining. Plus, if you're considering downsizing, there are condos with minimal home maintenance.
Have you ever heard of Georgetown? It's just 26 miles from Downtown Austin and is a hit among retirees. The area has age-restricted communities and offers open spaces and amenities. Sun City in Georgetown is a master-planned community with top-notch amenities like golf courses and fitness centers.
Wimberley is less than an hour away from Austin and offers a peaceful suburban life. The area is rich in natural beauty, and you'll find various home options, from custom homes to Craftsman-style houses.
If you're looking for luxury, Rough Hollow is your spot. It's a lakefront, resort-style community about 30 minutes from Downtown Austin. The area offers world-class amenities like the Rough Hollow Yacht Club and Marina.
Bouldin Creek is another walkable neighborhood, similar to Downtown but with a more residential feel. It's a safe area to enjoy a morning bike ride or walk.
Why Austin? Well, the city takes healthy living seriously. It's ranked #11 among the best cities to retire in the nation. The cost of living is reasonable, ranking #2 out of the 50 big states.
Austin is rich in green spaces. You can hike, bike, or jog at Barton Creek Greenbelt or enjoy the 350-acre Zilker Park. If you're into music, the city has over 250 music venues.
The weather in Austin is warm, ideal for those sensitive to cold. Summers can get hot, but winters are mild. The average temperature is around 70 degrees, close to the national average.
Healthcare is easily accessible. Hospitals like St. David's Medical Center and Seton Medical Care Austin offer specialized care. There are also various other medical facilities throughout the city.
Austin offers diverse housing options. Whether you're looking for a waterfront home or a gated community, you'll find it here. And if you're concerned about transportation, Austin's CapMetro offers reduced fares for seniors.
Portland, Oregon
Portland has been making waves as a top retirement destination, especially on the West Coast. U.S. News & World Report even ranked it the 20th-best American metro area for retirees. What makes it so appealing? It scored high in desirability and has a robust job market for those who want to keep busy post-retirement.
Healthcare is essential to baby boomers. The city of Portland has a dedicated office that provides resources and information on COBRA healthcare and the Public Employees Retirement System (PERS), particularly for retiree benefits. It's reassuring to know that there are such resources available.
Now, affordability is a big deal when you're living on a fixed income. Portland has its housing affordability challenges, but don't let that deter you. Some neighborhoods offer a good balance of cost and amenities. And let's not forget Oregon's 65-and-older population is growing faster than the nation, which means the state is doing something right.
Quality of life is also a big selling point. The city is known for its intergenerational art programs and community activities. It's not just about passing the time; it's about enriching your life. And if you're outdoorsy, Portland's natural beauty is a daily feast for the eyes.
But what about the nitty-gritty financial stuff? Oregon has no sales tax, which is a boon for retirees. You can stretch that dollar more when shopping or dining out. Plus, the state offers property tax deferral programs for seniors, easing the burden on homeowners.
Portland has been attracting more 40-and-older, college-educated folks than any other major metro. You will likely find like-minded individuals to share in your golden years. Many retirees also bring a lifetime of savings to spend, boosting the local service sector.
For those who want to give back, Portland's improving health trends mean more retirees remain active, perhaps volunteering in their communities. It's a win-win. You get to enjoy your retirement while contributing to the community.
Lisbon, Portugal
Lisbon, Portugal, is more than a stunning vacation destination; it's an ideal place to spend your retirement years. The city offers a blend of old-world charm and modern amenities that are hard to resist. The cost of living is reasonable, especially compared to other European capitals. You can live comfortably for $2,000 to $3,500 per month, depending on your lifestyle choices.
Healthcare is another big plus. Portugal has a well-regarded healthcare system that's both affordable and accessible. You won't have to worry about breaking the bank for medical expenses here. And let's remember the climate. Lisbon enjoys a Mediterranean climate, which means mild winters and warm summers. It's the kind of weather that'll make your bones thank you.
But it's not just about the practicalities. Lisbon offers a rich cultural experience that's second to none. The city is a melting pot of influences from Europe, Africa, and Asia, offering a rich tapestry of experiences. There's always something happening here, whether it's the food, the music, or the festivals.
The locals are friendly and welcoming, making integrating and making new friends easy. The city is also safe, ranking high on the Global Peace Index. Safety is a big concern for anyone, especially retirees looking to enjoy their golden years without worry.
For those who love the arts and social events, Lisbon won't disappoint. The city is teeming with museums, theaters, and galleries. Plenty of parks and outdoor spaces allow you to enjoy nature without leaving the city.
Getting your paperwork in order is straightforward. The D7 visa is popular among retirees and is a two-step process. You'll need to meet certain financial requirements and have health insurance, but you're good to go once that's sorted. And if you're worried about language barriers, don't be. While learning some basic Portuguese phrases is helpful, many people in Lisbon speak English.
Taxes are a necessary evil no matter where you go, but Portugal has a tax treaty with the U.S., which could work in your favor. It's always a good idea to consult with a tax professional to understand the implications fully.
Salinas, Ecuador
Salinas, often dubbed "Little Miami," has become a hotspot for expats, especially those from the United States. The town offers a laid-back lifestyle by the sea, with plenty of outdoor activities like sailing, surfing, and hiking. It's a pedestrian-friendly place, making getting around without a car easy. The town also has a well-developed infrastructure, including fast internet speeds, which is a boon for those who like to stay connected.
Living in Salinas won't break the bank. The cost of living is low enough that you can comfortably get by on Social Security alone. Real estate is also a good investment here. Whether you're looking to buy or rent, plenty of options suit various budgets. If you're considering an investment property, the strong rental market during peak seasons is an added advantage.
Healthcare in Salinas is both affordable and high-quality, with several hospitals and clinics to choose from. Dental care is also cost-effective compared to prices in the United States. If you're not satisfied with the healthcare options in Salinas, the city of Guayaquil, which has some of the best hospitals in the region, is just a two-hour drive away.
The climate in Salinas is moderate all year round, so you don't have to worry about extreme temperatures. The sea is warm enough for swimming throughout the year. If you're an outdoor enthusiast, you'll have plenty of activities to keep you busy, from sailing and surfing to hiking and biking.
Salinas is well-connected by road to other parts of Ecuador. Guayaquil and its international airport are just a two-hour drive away. Public transportation is also readily available, making it easy to explore the surrounding areas. You can even take flights to other destinations within Ecuador if you're up for some adventure.
The town offers a range of dining options, from high-end restaurants to local eateries serving set-course lunches for as little as $2.50. The lack of fast-food outlets and the availability of fresh produce in local markets make it easier to maintain a healthy diet.
Salinas is generally safe, but it's important to take common-sense precautions like any place. The expat community is thriving, with more than 6,000 expats residing in the town, making it easier to find like-minded individuals for socializing.
San Jose, Costa Rica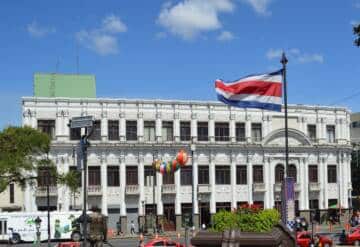 San Jose, Costa Rica, is calling all retirees, and here's why you should listen. The city offers a blend of natural beauty, vibrant culture, and affordability that's hard to beat. You won't lack comfort or social activities with various retirement communities featuring amenities like swimming pools and fitness centers.
Housing is quite affordable. A nice two-bedroom home typically costs around $150,000, while a three-bedroom home can go for about $200,000. The weather is warm and inviting, with temperatures ranging from the mid-60s to the mid-80s Fahrenheit. No more shoveling snow!
The healthcare system is a big plus. Both private and public healthcare options are available, and they won't send you into the poor house. Monthly costs for public healthcare can be as low as $30, and private insurance usually runs between $50 and $100.
If you are concerned about taxes reducing your retirement savings, consider that Costa Rica has low property taxes, approximately 0.25%, and no Capital Gains Tax. As a result, you can enjoy life with more money in your pocket.
The food is fresh and affordable. Farmers' markets offer a bounty of tropical fruits and other produce. You can fill your fridge with healthy options without emptying your wallet.
The weather is another highlight. Imagine living where it's spring all year round. In the Central Valley, where San Jose is located, temperatures are consistently pleasant, ranging from 75-80º F during the day and 65-70º F at night.
If you're adventurous, there's no shortage of outdoor activities. From bird-watching to hiking in national parks, your days can be as active as you want. And if you ever miss the grandkids, flights back to North America are relatively short and frequent.
The expat community is thriving, offering a built-in network of potential friends. There are also local clubs and organizations to join, which provide a great way to stay connected with the local culture.
Fort Collins, Colorado
Fort Collins is a gem in northern Colorado, next to the Rocky Mountain National Park. The city offers a mix of natural beauty and urban sophistication. Imagine waking up to picturesque mountain views every day. The Fort Collins Senior Center is a hub of activities, offering everything from a wellness center to community gardens. They even host ski trips!
The city is rich in cultural attractions, too. The Fort Collins Museum of Discovery and the Museum of Art are places where you can soak up some culture. For your shopping and dining needs, S. College Ave. has got you covered. Places like Cafe Vino and The Welsh Rabbit Bistro are worth a visit.
Outdoor enthusiasts will find a lot to love. Lory State Park and other natural areas offer hiking, kayaking, and more. You're always close to a trail or a tranquil lake. The city has several retirement communities, each with its own set of amenities. Homes range from $500,000 to around $1 million, offering plenty of space and comfort.
While the cost of living is a bit higher than the national average, it's a worthwhile trade-off for the quality of life. The median home cost is around $544,900, and the overall cost of living index is 116.7, compared to the U.S. average of 100. Can you put a price on waking up to the Rocky Mountains daily?
Fort Collins is not just a place to live; it's a community. The city offers a variety of homes, from condos to single-family houses, catering to different lifestyle needs. Prices for these homes can range from around $300,000 to upwards of $500,000.
In terms of healthcare, the city scores lower than the national average, making it more affordable. The city is easily accessible, with I-25 running along its eastern side, connecting it to Boulder and Denver in just over an hour.
The city is perfect for those who want a blend of outdoor activities and city amenities. Whether it's the arts, dining, or outdoor adventures, Fort Collins offers a balanced life that's hard to beat. It's a place where you can truly make the most of your golden years.
Prescott, Arizona
Prescott has much going for it, especially if you're eyeing a spot to kick back in your golden years. With an average of 277 sunny days and a comfortable 70-degree average temperature, it's no wonder CNN Money ranks it among the top 25 places to retire. The climate is just right, offering four distinct seasons without extreme temperatures. You get to enjoy a bit of snow in the winter and a dry heat in the summer.
Outdoor activities? Prescott has you covered. Whether you're into hiking, biking, or just enjoying nature, the proximity to Prescott National Forest offers endless opportunities. Not the outdoorsy type? No worries. The city's vibrant culture, influenced by its status as a college town, offers a variety of lectures and events.
But wait, there's more. The art scene is bustling with galleries and plentiful dining options. For those who enjoy live performances, the Findlay Toyota Center is a short drive away and hosts concerts, conventions, and sporting events.
Are you thinking of day trips? Prescott is close to several iconic locations like Sedona, Flagstaff, and even the Grand Canyon. It's like having the wonders of the world at your doorstep.
On the financial side, Arizona is quite tax-friendly for retirees. Social Security benefits aren't taxed; if you have a military or civil service pension, up to $2,500 is tax-free.
If you're looking for a community, Touchmark at The Ranch is a full-service retirement community in Prescott, offering high-quality care and amenities for over 40 years. It's a place where you can truly feel at home.
The golden years are not just a time to relax; they are an incredible chapter where you can fully enjoy life. Consider climate, healthcare, and activities when choosing your ideal retirement city. Also, keep an eye on taxes to ensure your hard-earned money goes as far as possible.
So go ahead, find that perfect place where you can make the most of these wonderful years. Do your research and pick a location that enriches your life. You've certainly earned it.
Jason Butler is the owner of My Money Chronicles, a website where he discusses personal finance, side hustles, travel, and more. Jason is from Atlanta, Georgia. He graduated from Savannah State University with his BA in Marketing. Jason has been featured in Forbes, Discover, and Investopedia.