What to Sell on eBay: 45 Items to Flip Now
This post may contain affiliate links. Feel free to view my disclosure 
here.
Have you ever thought about what to sell on eBay? There are tons of things that you can list. Today, I have a list of 45 items you can start with. This list features items that I've personally sold. There will be no mentions of Beanie Babies or Black Diamond Disney Movies.
What to Sell on eBay
Board Games
Board games can be great sellers if you can find them cheaply. I pay $3 – $5 for the board games. The board game below sold for $45.99.
Tennis Shoes
Tennis shoes will always sell. I only flipped Nike and Jordan's when I started selling them. There are so many other brands out there that can make you some money. Asics, New Balance, and Adidas are just a few of them. This used pair of Asics sold for $69.99.
Gloves
Gloves are another item on the what to sell on eBay list. The brand will determine the amount that you can make on them. These sold for nearly $44.
Boots
Boots are the next item on the list. There are many different kinds out there. Do your research on this item. These used Ralph Lauren boots went for $49.99.
Soccer Jerseys
I don't know much about soccer, but the jerseys will sell for a good amount of money a lot of times. I've sold some Adidas and Nike jerseys before. This soccer jersey sold for $15.99. I purchased it for $3.
Gift Cards
I've sold a few of these over the years. The one thing with gift cards is that, in most cases, you will get only part of the amount back. For example, a $25 gift card will sell for $23.99 or near that amount. Here's another example of what a gift card sold for.
Cassette Tapes
Believe it or not, people are still buying cassette tapes. I'm unsure why they sell, but I'm not asking any questions. I have a group of 12 tapes that I currently have listed. They may be sold by the time you finish reading this post. This listing sold for $27.66. I know some people reading this didn't think cassette tapes would be on a what to sell on eBay list.
NBA Jerseys
NBA jerseys are one of my favorite things to flip. If you've followed this site for a while, you may remember the D. Wade jersey story. I purchased a D. Wade Miami Heat jersey for $3 a few years back. It sold for $45 a couple of days later. That was the beginning of me getting hooked on the eBay game. Since then, I've sold a lot of NBA jerseys. I sold a jersey similar to the one below for $100. I only paid $7 for it.
Golf Balls
In the past, I would have never thought about selling golf balls. That changed a couple of years ago. Walmart had a brand new set of 9 golf balls for $3. I checked online and saw that the exact brand and set sold for $27. I grabbed the set immediately. A couple of weeks later, I was able to sell them for $19. (Even though it says $21.99, I accepted an offer for $19).
Card Games
Card games are next on the list. You can sell games like Respond, Uno, and Phase 10. Here's a recent card game that sold.
College Football Jerseys
College football is vast in many areas of the country. If you find some college football jerseys, list them. They will sell. Look at what this Aaron Rodgers jersey sold for.
Toner
Computer toner is another item that you can double or flip your profit on. Here's one that sold recently.
Bobbleheads
This is another one of my favorite things to sell on eBay. Bobbleheads should be on everyone's what to sell on eBay list. I've been selling them for years. In most cases, they are easy to flip. There are sports fans all around the world. A lot of them collect bobbleheads. Many of them can only get to some of the games where they have different bobblehead promos. This is just one reason why bobbleheads do so well. Below are a couple that I've sold.
I paid $$2.64 for the Car Fox bobblehead. It sold for $20.
I paid $8 for Ralphie. It sold for $25.
NFL Jerseys
NFL fans are everywhere. They love to represent their team. You can help them do that by listing NFL jerseys. This is a recent seller.
Concert Tour Shirt
You can make a lot of money on concert tour shorts. Many people collect them. This one sold for $186.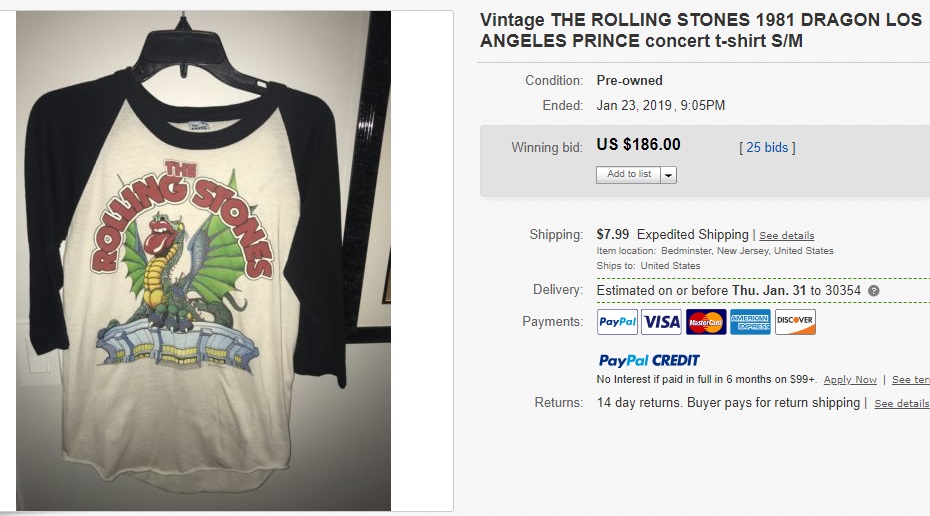 Coogi
Coogi is a famous European clothing brand. They have shirts and jeans but are known for their nice sweaters. Look at what this Coogi sweater sold for.
Thermostat
The next item that you can sell is a thermostat. This one sold for nearly $110.
Coffee Mugs
Back in the day, I used to focus heavily on Starbucks coffee mugs. They used to sell for big money. While you can still make money on them, the demand is nowhere where it used to be. Certain types of Starbucks mugs can still sell well, though. I also look for other types. Sports mugs and Disney mugs are some that I currently have listed in my store. Make sure you research the mugs because if you don't, they will sit in your store for months. This mug sold for $12.
Blank VHS Tapes
This was another surprise item. Never in a million years would I think people still buy Blank VHS tapes. Here's one of my best flips.
I paid $2 for these tapes. They sold for $79.99.
Jackets
Jackets are another popular item that you should consider selling. Do your research to find out what brands sell the most. Here is an example of a jacket that recently sold.
Hats
The next item on the list of things you can sell on eBay now is hats. They are relatively cheap to buy from any thrift store. If you find the right one, you can make a killing. Here's what one sold for recently.
Dress Shoes
Earlier, I stated that I flip tennis shoes on eBay. Dress shoes can also do well. Some brands that I've flipped are Stacey Adams and. This used pair sold for nearly $80.
Notre Dame Items
Notre Dame is one of the biggest college brands out there. You can list anything with the Notre Dame name or logo and make some easy cash. I sold each of these Notre Dame beer steins for at least $22.
VCRs
A lot of people still use VCRs. They are a huge seller on eBay. I've flipped a few over the years. Check out what this one sold for.
Grab the checklist that features 15 of my favorite items here. You can put it on your fridge or take it when sourcing items.
Walkman
You may be shocked that Walkman's are still selling in a digital world. Well, they still sell, and if it's a new one, you may have hit the lottery. This one sold for 800 bucks! This is another item that I'm surprised is on a what to sell on eBay list in 2023, but it is.

Old Camera Film
I'm unsure if people collect the old camera film or still use it. Regardless of the reason, list it if you have or find some. I found a pack of eight at one of the local thrift stores a couple of months ago. I ended up selling them for $70. Here is a recent old camera film sale.
Laptops
Laptops will always sell. This is the best thing to sell on eBay for some people. Even if it doesn't work, you can list it on eBay and sell it for parts. People also refurbish them. Look at what this one sold for.
iPads
Apple products sell great online. Some folks love the allure of them. If you have an iPad that you no longer want, list it today. You can always list an Apple product if you don't know what to sell on eBay. Below is a picture of a recent sale.
Old iPods
This is another Apple product. They don't even make these anymore. Look at how much this old iPod sold for.
Tools
Tools are another item that you can consider selling. There are various kinds of tools out there. Here's a recent sale.
Plates
Many people collect different kinds of plates. Check out what these plates sold for.
Kentucky Derby Glasses
The Kentucky Derby happens each year in May. People collect the Kentucky Derby glasses. I've found a few of them for a very low price in the last couple of years. This one glass sold for $1275!
MLB Jerseys
A lot of people, including myself, love Major League Baseball. The jerseys can go for a decent amount of money. They are one of the easiest things to sell on eBay. This Expos jersey went for $258.
Autographed Pictures
The right autograph can go for thousands of bucks. You have to make sure that the signature is legit. I've sold a couple of autographed photos before. This picture sold for a very good amount.
Magazines
Some magazines can sell for a decent amount. This is another item that you should take the time to research before you list. Here is a recent magazine sale.

Puzzles
Puzzles are another item you can flip. Look at this sale below.
Video Games
This is one of the few times I wish I still played video games. I am still determining what's popular at the current moment. Type "video games" in the eBay search bar if you're in a similar predicament. When the results come up, click on the "sold" filter. There you'll be able to see what recent video games sold and for how much. Look at this sale.
Action Figures
Many people collect action figures. When I was a kid, I collected Ninja Turtle toys. When I think about it, I'm not sure what happened to them. They could be worth some money now. That's just an example of one type of action figure. There are hundreds out there. As always, do your research before you list. These sold for nearly $15,000.
Stuffed Animals
Stuffed animals are a popular toy. You can make good money on them if you know what to look for. Check out this recent flip.
Cell Phones
Many old cell phones still sell for hundreds of bucks. Years ago, I sold a broken iPhone for $50. The screen was cracked and everything. Look at what this phone sold for.
Empty Cologne Bottles
This was news to me. I was in a Facebook group when I saw that people were selling empty cologne bottles. I was shocked. For years, I have been throwing away empty cologne bottles when I was finished with them. I won't be doing that anymore. Here is a recent sale.
Empty Liquor Bottle
This is another shocker for me. People are buying empty liquor bottles. As a person who drinks occasionally, I recommend listing this item. Look at this recent sale.
Yearbooks
Surprisingly, people collect yearbooks. It could be worth it to find some for free or cheap. These are some of the books that sell on eBay. I've sold a few of them before. They may take a while. Here is a recent sale.
Hair
People buy hair online. From what I've seen, it could be lucrative. Here's a recent sale.
Olympic Merchandise
The last item on this list is Olympic merchandise. There are summer or winter Olympic games every two years. Olympic merchandise can be considered collector's items. I sold a 1992 Winter Olympic sweater for a decent amount of money a few years ago. Look at what this item sold for.
This list will give you some ideas on what to sell on eBay. Selling these items should help you to make more money. I purchase many of my items at thrift stores. I developed this FREE 5-day thrifting challenge to help you if you are starting. You can sign up for it here. You will get five e-mails full of info that will help you earn more money.
Here are some eBay resources for you
Tape
Tape comes in handy. You can never have enough of it. Here is some shipping tape that I use.
Boxes
I get a lot of my boxes that I use for shipping at the Post Office. If I need a package that's a different size, I usually get it somewhere else. Here's a link to a multi-pack of boxes.
Bubble Wrap
You will need to get some bubble wrap if you sell specific items. Here are some that are priced reasonably.
Jason Butler is the owner of My Money Chronicles, a website where he discusses personal finance, side hustles, travel, and more. Jason is from Atlanta, Georgia. He graduated from Savannah State University with his BA in Marketing. Jason has been featured in Forbes, Discover, and Investopedia.