How to Sell on Facebook Marketplace
This post may contain affiliate links. Feel free to view my disclosure 
here.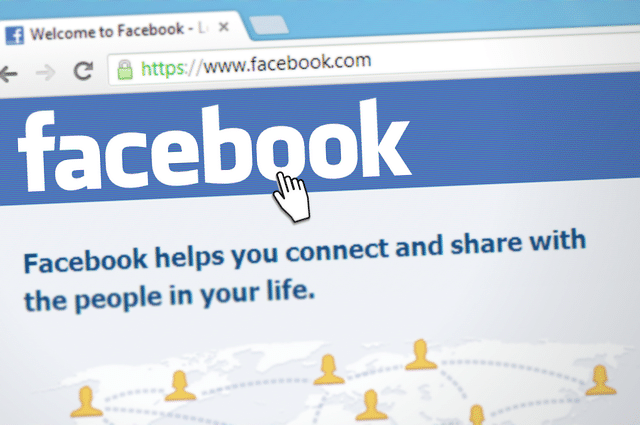 There's a good chance that you have a Facebook account. Facebook has become more than just a social media account in the past few years. It's becoming an all-in-one platform. You can watch videos, play games, and even sell on the site on their marketplace. Today, I'll be discussing how to sell on Facebook Marketplace.
What is Facebook Marketplace?
Facebook Marketplace is an online marketplace where people can buy or sell items. You can choose to sell new or unwanted items. If you want to make extra money, you should be selling on this platform. FB Marketplace was started in 2016. You have to have a Facebook account to use it. It's similar to Craigslist. You post an item that you want to sell. If someone wants it, they'll message you. You then agree on a price and a place to meet up at.
How Much Does It Cost To Use?
Facebook Marketplace is free to use. There is no monthly membership cost. A 5% selling fee is taken from your profit once you make a sale. Also, if you want to boost a listing, you can pay a small fee. I will discuss that later in the article.
When you click on the Facebook Marketplace area, you will see six tabs you can choose from on your left.
Browse All
The browse all section allows you to search on Facebook Marketplace. You can see what people are selling around your area. You can also search from as close to 1 mile to as far away as 500 miles. If you scroll down, you can also see the different categories that are out there as well. Some are hobbies, electronics, garden & outdoor, vehicles, apparel, toys & games, classifieds, family, entertainment, and free stuff.
Notifications
The following section is for notifications. The notifications will show up in this section if you sell any items.
Inbox
This section has the chats that you have with potential buyers and sellers. You can also filter your chats in this section. They can be filtered as pending payment, paid, to be shipped, shipped, cash on delivery, and completed.
Cart
This section is your shopping cart. Items that you are buying will appear there.
Buying
This section has several things in it. It has a tab that shows you your saved items. You can also see your purchased orders. There's also a tab that allows you to see offers that you submitted. You can also see any alerts that you have. Finally, you can see anything you follow, whether a seller or an item.
Selling
This is the most important section if you are selling items. It starts with a tab for your seller dashboard. After that, you can see all of your listings. Next, you can see your shipping orders. Then there is a tab that has the shipping offers. Next up is your payouts. It shows you how much you can expect to get from each sale. Announcements, promotions, and insights round out the sections in the selling tab.
What Can You Sell?
You can sell almost anything on Facebook Marketplace as long as it's legal. It's easy to make money on Facebook Marketplace. I've sold shoes, a coffee maker, a safe, and some coffee mugs, to name a few. People can also sell vehicles and rent homes on this platform. There are some things that you can't sell. Some of them are drugs, ammunition, alcohol, adult products, and items of that nature.
How to Sell on Facebook Marketplace
List Your Item
You may be wondering how to start the process. First things first, you list your item. To start this process, click on the "sell something" tab.
Click on item for sale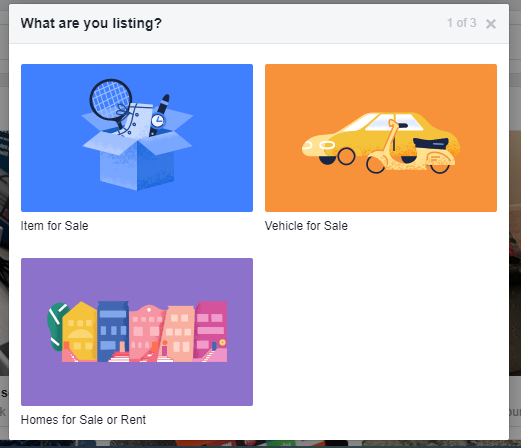 Next, you select the category and come up with the title, the price, and the description. Also, add pictures to the listing. You can add up to 10 pictures.
Here is how it looks once you are ready to list an item.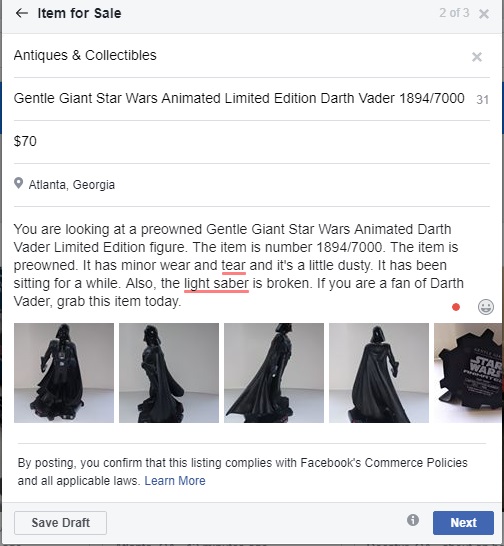 Next, you select your audience. The audience would be Marketplace.
Once you do that, the item is now live.
Payment
If I'm meeting with a buyer, I accept cash when selling an item. You can do PayPal or Cash App, but make sure the money has been deposited before completing the transaction. The funds will be deposited in your bank account if you ship an item in a few days. (You must set that up if you ship items.)
Safety
Most of my Facebook Marketplace transactions have been done in person. When meeting with someone, make sure that you choose a safe location. The post office or grocery store parking lots are usually good places. Police precincts are also great locations. Make sure you complete the transaction during the day as well. It's safer that way.
I also only meet up with people for particular items. If it's some Michael Jordan shoes or certain electronics (cell phones, video game consoles, etc.), I'll list it as shipping only, or I'll post the item on eBay or Mercari. Those are generally items that people will pay more for. Unfortunately, people may try to rob you of those items as well. I read articles once or twice a year about meetups that have gone wrong due to someone trying to rob the seller. I don't believe anyone would rob me, but I'm not taking any chances. I'd rather be safe than sorry.
Another quick tip is that Facebook Marketplace is an excellent platform to resell big or heavy items. You can save a ton of money by not dealing with shipping. Trying to ship certain things would be a hassle. It's much easier to have someone meet you or, in that rare case, come to your house and pick it up. I've sold some things on Facebook Marketplace due to their weight or size: records, drinking glasses, and a portable safe. The bigger items are a quick way to make money on Facebook Marketplace.
As you can see, Facebook Marketplace is a good platform to crosspost your items. Take some time and list something today.
Have you sold anything to make money on Facebook Marketplace?
Related Reading:
Jason Butler is the owner of My Money Chronicles, a website where he discusses personal finance, side hustles, travel, and more. Jason is from Atlanta, Georgia. He graduated from Savannah State University with his BA in Marketing. Jason has been featured in Forbes, Discover, and Investopedia.