This post may contain affiliate links. Feel free to view my disclosure 
here.
There are tons of online marketplaces for you to sell items, including Craigslist, Mercari, Poshmark, Facebook Marketplace, and OfferUp. Heck, you may even sell on your own website. In this article, you will learn about another place to sell online. Today, we will be going over how to sell on Bonanza. It's another selling platform that will let you sell things online.
What is Bonanza?
Bonanza is, you guessed it, another online marketplace. If you like eBay, you will probably like Bonanza. When you list your items, they will become a part of your "booth," which is a store. Below is an image of my booth.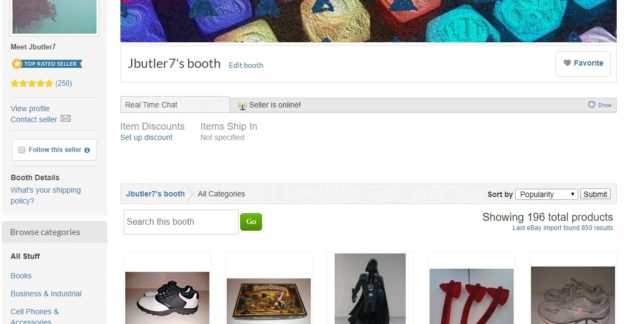 Bonanza has over 5 million visitors per month. Its traffic is much lower than eBay's. If the traffic is lower than eBay, why should you use Bonanza? Keep reading, and you'll get the answer as to why you should sell on Bonanza.
Sign up for Bonanza here.
Item Import
This first feature is why I started selling on Bonanza. You can import your listings from eBay directly to Bonanza. That was a game-changer for me. All you have to do is sync your Bonanza account with your eBay store. Once the sync is complete, your items will now be on Bonanza. Below are a couple of images of how the sync will look.
The import saves hours of work. You can also edit the items that have been imported to Bonanza. For example, since Bonanza doesn't allow auctions, my settings allow only the buy-it-now items to be imported. If you have items that you are auctioning, you can add them to sell on Bonanza. You have to change them to a buy it now listing.
Another good thing about the import is that it automatically updates the items every 1-3 days. If you delete something or sell an item, it is updated on Bonanza right away. If an item sells on Bonanza, it is immediately removed from your eBay account. This is another good feature, especially if you sell items on other platforms. You may not always have time to check Bonanza. Since it auto-updates, you don't have to. I wish other e-commerce marketplaces had a feature like this.
Fees
Another reason to join Bonanza is the fees. If someone finds your item organically, you only have to pay 3.5% per sale. Honestly, I'm not sure how many people will find it like that, though, due to the amount of traffic Bonanza gets. There are four other advertising levels to help you market your items. Check the image below.
I currently use the Basic model. I'm only charged 9% for my fees which is lower than eBay. You can choose the standard, superior, or elite plans to drive traffic to your items. Just be prepared to pay more in fees on the item sales. Depending on what you're selling, one of those other options may work for you. Since I have things on several platforms, the basic is fine for me right now.
What can you sell on Bonanza?
You can sell all types of items on Bonanza. Below are a few of them:
Women's Fashion
Men's Fashion
Home & Garden
Health & Beauty
Collectibles & Art
Those are just a few things you can sell on Bonanza. For a full list of items, go here.
How to list an item on Bonanza
You have two ways to list an item on Bonanza. You can add an individual item, or you can import your items.
When you're adding an individual item, you create a good title, add multiple photos & choose the category that it's in. As you can see, it's very similar to eBay.
You will also choose the quantity you have and need to write a detailed description. This shouldn't take too long to do.
Next, you will update your shipping info. You have the opportunity to do free, flat-rate, or calculated shipping.
Decide if you want to ship internationally. Also, set a price for your item. If you are new to selling, I suggest you ship to people in this country.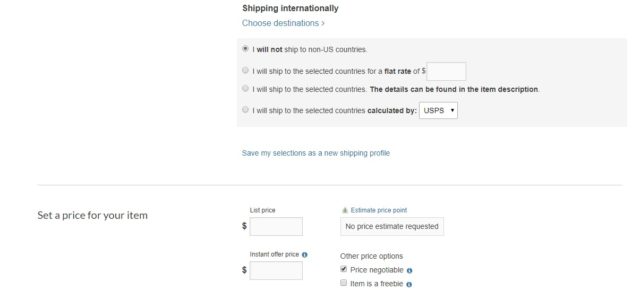 Once you do that, your item will be a part of your booth. People will be able to buy it now.
The second way to add items is to import them from eBay. Since I'm selling on eBay, that's what I do, and you should do the same. This platform isn't meant to be your main selling site. It's one to help you get more sales by cross-posting. When you're ready to import, all you have to do is click the word eBay.
The import could take a few hours to complete depending on how many items you have. For more info about the eBay import, go here. Once the import is done, your items will be available on Bonanza.
Bonanza is a very unique platform. If you have the stuff to sell, it's a no-brainer. The import feature makes it a "must" if you are looking for another platform to sell your items. It doesn't have the most traffic, but Bonanza is growing. I believe that when more people find out about it, it will become more popular. You also have the choice to change how your items are advertised. That right there can grow your income because more people seeing it could mean more sales.
Bonanza is less work as well. You don't have to spend time tweaking your items. You can do that on eBay. Once you're finished, it will automatically update on Bonanza in a day or 2. You only need to check your email regularly because that's how you will be notified if an item sells. If I were you, I'd consider importing items to sell on Bonanza. There's no reason not to. If you are selling items online, this would be good for you. More people will see your items, so that could mean more sales. More sales mean that you can get paid more.
Reselling new and used stuff is a great way to make money. If you sell on Amazon, eBay or another site, you might also sell on Bonanza.
Have you ever sold an item on Bonanza?
Week 1: Selling on Craigslist
Week 2: How to Sell on Mercari
Week 3: How to Sell on Poshmark 
Week 4: How to Sell on Facebook Marketplace
Week 5: How to Sell on Letgo
Week 6: How to Sell on OfferUp
Jason Butler is the owner of My Money Chronicles, a website where he discusses personal finance, side hustles, travel, and more. Jason is from Atlanta, Georgia. He graduated from Savannah State University with his BA in Marketing. Jason has been featured in Forbes, Discover, and Investopedia.