How to Sell on eBay For Beginners
This post may contain affiliate links. Feel free to view my disclosure 
here.
eBay is one of the best platforms to resell items on. Some people do it as a hobby, while others sell on eBay full-time. In today's article, I will review how to sell on eBay for beginners. If you want to start, it should answer many of your questions about eBay.
How to Sell on eBay For Beginners
Get Started
You want to sell on eBay, but you still need to make a move. It's time to make a move. The first thing that you need to do is sign up for an account. Signing up for an eBay account is free. You must include your name, email address, and password to start. Follow the instructions, and you should have your account live within 10 minutes.
Sign Up for PayPal
The 2nd thing you should do is sign up for a PayPal account. A PayPal account is an online service that allows you to send and transfer money electronically. You can use PayPal to pay for items, but eBay no longer pays you through them. I'll get to that in a second. PayPal is also free to register with. Make sure you add a checking account or credit card to your PayPal account so that it gets verified.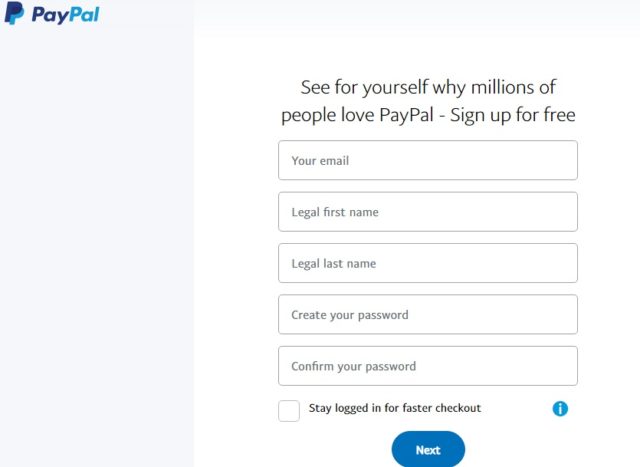 eBay's Manage Payments
In 2018, eBay started a payment management program, which means the platform handles the transaction from start to finish, only for a certain percentage of the final sale. This depends on the final sale price and the item sold, but it ranges between 12% to 15% of the final price plus 30 cents. 
Implementing this program has many benefits, one of which is that it allows the buyer to pay in many different ways, giving the seller a higher opportunity to make a sale. Also, the seller can have everything needed in one place, such as fees, customized reports, protections, and support. eBay is always looking for ways to improve the experience of both parties, seller and buyer, so this program simplifies everything related to the transactions done on the website.
How does it work?
When you register on the Manage Payment program, you will link a bank account or a Payoneer account, which is a payment platform like PayPal. Payoneer teamed up with eBay in 2021. You can choose to receive payouts of available funds daily, weekly, fortnightly, or monthly. The company only sends payouts on business days. 
eBay deducts the fees and commissions before transferring your funds when a sale is made. If you have a Payoneer account, you will have access to those funds within minutes. But If you want those funds in your bank account, it will take more time to access them. eBay usually takes two business days after confirming the buyer's payment, and your bank will take 1 to 3 additional business days. You will find all the details of your payouts in the reports section of My eBay or Seller Hub.
Learn more about eBay's fees here.
What Do You Want to Sell
Next, you have to decide what you want to sell. There are thousands of things that you can sell. I tell people to start with what they know. If you know shoes, start with shoes. I know sports, so I started selling sports-related items. People are making money on all types of crazy items. Below is a list of a few things that I've sold.
Shoes

Sports Jerseys

Bobbleheads

Coffee Mugs

Tools
That list can go on forever. Figure out what you want to sell, and then start listing.
If you need help finding inventory, subscribe to my newsletter and get a free list of 45 Items you can flip. If you don't want to subscribe, you can get the list for $0.99 here.
Before you list your items, make sure you do your research. This will let you know whether you have an item that will sell. There are items out there that sell, but the seller doesn't make a profit. That's not why I'm on eBay.
The goal is to make money. I research an item primarily by searching for it on the eBay website. You want to make sure that it's an item worth selling. I made a mistake in thinking that some items would sell, but they didn't. Taking an "L" isn't fun. My eBay flops, as I call them, can be viewed here.
Take Good Pictures
The next tip on how to sell on eBay for beginners is to take good pictures. This is arguably the most important thing to do. Potential buyers will see your photographs and title first. You want to make sure that they buy, so have great pictures. Your pictures should be clear and have plenty of lighting. You can also add up to 12 photos for free on eBay.
For most of my listings, I post between 10-12 images. That should be more than enough pictures for prospective buyers to know whether they want to buy your item. I typically use my cell phone light or lights in the house. If you reach the next level, you can use a lightbox like the one in the highlighted link. It will help your pictures look more professional.
Auction or Buy it Now
The next step is to decide how to sell your item. Do you want to list it as an auction, or do you want to sell it for a fixed price (Buy it Now)? If you list your item as an auction, people can bid on it. The highest bidder wins the thing. With a fixed-price listing, you choose the price. The person can then buy it without bidding. Auctions can be listed for 3, 5, 7, or 10 days. Fixed price listings are listed for 30 days. If the item doesn't sell, it will be automatically relisted for another 30 days. Most of my items are "Buy it Now." I like getting my money sooner rather than later.
Before setting a price for your listings, check the listings to see what your items are selling for. Below are a few pictures that can show you how to do that. The example that I used was Air Jordan IV sneakers.
I typed "Air Jordan IV" in the search bar.
Next, you can click on sold items and you can see what the items have sold for.
As you can see, most of those Jordans sold for over 100 bucks. You can compare any item this way. Once you do that, you gauge your starting price.
Shipping
This is where a lot of eBay sellers get frustrated. Hell, I used to get frustrated a lot with shipping, too. When it comes to shipping, you have two options. You can either charge a flat shipping rate or calculate the shipping. If you are a beginner, I suggest you ship everything at a flat rate. You can find more information about this on the USPS website.
Related Reading: eBay Shipping Tips
Suppose you plan to calculate shipping research that you get a scale. In the past, I used to estimate some of my shipping prices. That was not an intelligent thing to do. I lost money on several occasions. Below is a scale that is similar to the one that I have.
Shipping boxes can be hard to come by if you don't know where to look. You can get some from the post office for free. Believe it or not, you don't have to go to a physical location. You can order them online at the USPS website. You can also purchase them from a store like Walmart. I get most of the boxes I ship shoes and bobbleheads from there.
I hope this post on how to sell on eBay for beginners answers some of your questions. If you need specific help, please join my Facebook group, My Money Chronicles, Inner Circle. We talk about eBay in there all the time.
This post is a beginner's guide for eBay. You may need more info. I recently recorded a webinar titled eBay for Starters. In the 30-minute webinar, I go into more detail on how to sell on eBay for beginners. The webinar is free. Go here to view it today.
I hope you enjoyed this post on how to sell on eBay. I believe that you can make money today. You have to start.
Below, I have a few more eBay resources for you.
eBay Resources
Boxes
I get a lot of my boxes that I use for shipping at the Post Office. They don't always have the correct size. If I need a different size box, I usually get it somewhere else. You can purchase them from a store or order them from Amazon. Below is a good pack of boxes.
Bubble Wrap
You will need to get some bubble wrap if you sell specific items like mugs or glass. Here is some bubble wrap that is priced reasonably.
Tape
Tape comes in handy. You can never have enough of it. Here is an example of the shipping tape that I use.
Jason Butler is the owner of My Money Chronicles, a website where he discusses personal finance, side hustles, travel, and more. Jason is from Atlanta, Georgia. He graduated from Savannah State University with his BA in Marketing. Jason has been featured in Forbes, Discover, and Investopedia.