20 Great Wedding Gift Ideas
This post may contain affiliate links. Feel free to view my disclosure 
here.
I've had several friends get married over the last few years. I was even the best man at one of my friend's weddings in 2016. I've been to and in several weddings, and I enjoy it every time. I try to come up with great wedding gift ideas that the couple will enjoy.
Sometimes, people struggle with wedding gift ideas. If you're one of the folks that don't know what to buy, then today's post is for you. Below are twenty great wedding gifts that you can consider.
Great Wedding Gift Ideas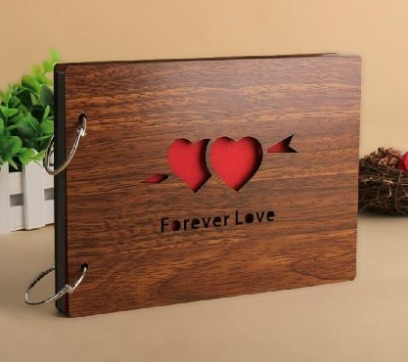 With DIY photo albums, pick the happiest, most joyful, unforgettable moments. Create a great album with scrapbooking supplies that were carefully selected. You can get them monogrammed and personalized.
 The Freeze is perfect for all wines. It keeps your drinks chilled for hours.
The Cuisinart Classic Stainless Steel Cutlery 15-piece Block Set includes an 8″ Chef Knife, 8″ Slicing Knife, 7″ Santoku Knife, 5.5″ Serrated Utility Knife, 3.5″ Paring Knife, 3.5″ Bird's Beak Paring Knife, 8″ Sharpening Steel, All-Purpose Household Shears and Block to hold them all.
The American Pale Ale home beer brewing kit is a great wedding gift for beer drinkers. It makes a crisp, hoppy, and bitter pale ale with light malt flavors. This starter kit comes with all the home brewing supplies you need to be a master brewer.
The Cheesecake Factory offers more than 200 menu selections, including steaks, pasta, specialty salads, pizzas, and fresh fish. Don't forget to save room for one of their more than 50 decadent cheesecakes and desserts.
The Char-Griller Pro Deluxe 2828 Charcoal Grill has 580 square inches of primary cooking space and a 250-square-inch warming rack. The cast iron cooking surface has four lift-able sections to access coals easily. The charcoal grates are adjustable, and the ash pan dumps easily.
Personalized items are next on this list of wedding gift ideas. You can get all kinds of personalized wedding gifts that feature your photos, including pillows, magnets, and canvas sets.
The Mr. & Mrs. Towel Set is the perfect gift for a happy couple. These Beautiful soft and plush towels are perfect for Beach, Pool, or Bath! It is a practical and fun gift for the newlyweds.
Wine – Various Prices
What good are the wine glasses above without having something to put in them? Wine.com has a huge selection of wines to choose from. They have wine for any budget.
With a Vitamix, you can create every course of your home-cooked meal, from frozen drinks to creamy desserts, in minutes. The Vitamix 5200 is the universal tool for family meals and entertaining.
The options for personalization are without limit on this perfect astrology star map. It can reflect the universe's placement on the wedding day, the first date of the couple, or even any notable event in their relationship. After all, all is written in the stars.
I like almost every coffee press I have come across. But, you can give the couple a less grumpy and grouchy morning by presenting them with this pair of picturesque coffee makers that even attractiveness makes it a decorative piece when not working.
Candles are good, but why not upgrade your game and gift the couple this oil diffuser with a Bluetooth-enabled speaker? A bottle of lavender oil accompanies it to help them relieve the stress of wedding chaos. In short, you are presenting them with three gifts in a package.
Help them keep and preserve their honeymoon memories with this ink-free and instant -print enabled digital camera. This camera can also be an interesting shower gift for couples to take their snaps and friends at the reception.
Put some sonorous tunes in their lifestyle and home with a Crosley snap record player. For the music lover, this is a unique gift. If you feel generous, buy this alongside their favorite artists records.
After their honeymoon and reality sets in, you can help them feel like they are still on vacation with these lightweight parachute-themed waffle robes. It comes in multiple colors, including white and blue, so it does not have to be all matchy-matchy. Remember that you will have to buy two.
This headset is themed oculus and chill, sound familiar? With the Oculus Go Virtual Reality Standalone headset, you can help the couple take a break when they are engrossed in the overwhelming reality. It offers over 1,000 3D VR experiences and games. This is a unique item on the list of wedding gift ideas.
What is a heart without a beat? What is a wedding ring without proper storage? This classic ring box from Ivy Lane – aesthetically lined with black velvet lining- will be an everlasting reminder of that special day.
This top-notch indoor camera is not just a gag gift. It is an intelligent investment and asset for couples who want to keep an eye on every nook and cranny of their apartment.
You guessed it, another wine-related gift. If they know their wines, they can distinguish between their merlots and cabernets, then, of course, they will need a place to store them. That is where the use of a 24-bottle wooden wine rack sets in. If you are feeling generous, you can throw in a bottle of the nectar of the gods to add to their collection.
These are twenty great wedding gift ideas. I'm sure you can find something on this list that the newlyweds will enjoy.
Check out some of my other gift guides
Do you have a particular item you would give someone for their wedding?
Jason Butler is the owner of My Money Chronicles, a website where he discusses personal finance, side hustles, travel, and more. Jason is from Atlanta, Georgia. He graduated from Savannah State University with his BA in Marketing. Jason has been featured in Forbes, Discover, and Investopedia.