The Benefits of a Side Hustle
This post may contain affiliate links. Feel free to view my disclosure 
here.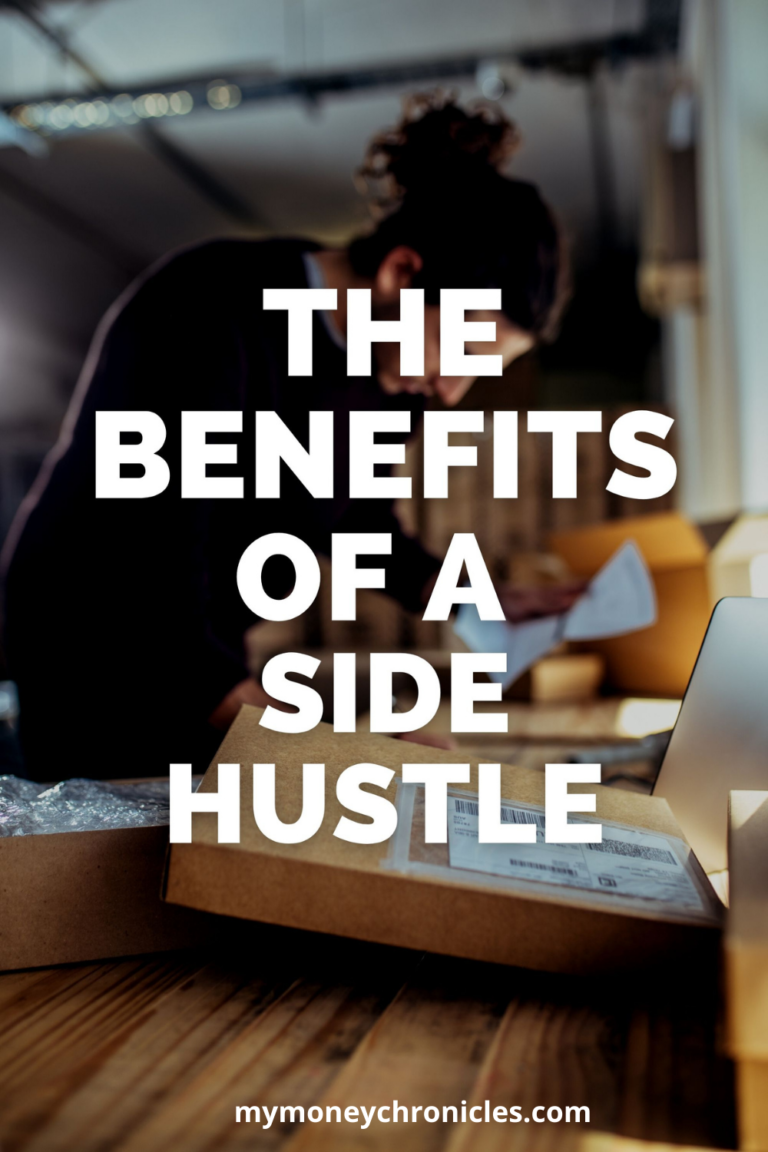 I hope that everyone is doing well. If you've been reading My Money Chronicles for a while, you know that I am a huge fan of the side hustle. I've done things from selling stuff on eBay, selling candy, and selling shirts on Merch By Amazon. I believe that having a side hustle can make some things in your life easier. There are several benefits of a side hustle. In this post, I want to share a few of them.
Extra Money
The first thing on the list of benefits of a side hustle is that you will be making extra money. One of the most important things that I'm doing right now is paying off debt. I started this debt-free journey back in 2015.  I've had this debt for far too long, and I refuse to have it for too much longer. I make a decent amount of money at my 9-5 job, but I want this debt to be gone sooner than later. The money that I make from side hustling allows me to pay it off faster.
Many of you are in a similar situation as well. You may have student loan or credit card debt that's becoming a nuisance to you. Starting a side hustle may be a way for you to eliminate them as well.
Many people know that traveling is one of my favorite hobbies. I've said it before, and I'll say it again, life is all about experiences. I'll take a trip over a BMW or some expensive piece of clothing any day. Memories and creating new ones are so much more important than materialistic stuff. This is another place where my extra money goes. Without the extra money. I wouldn't be to travel as much. In 2016 I traveled a lot. The extra money helped me pay for trips to Washington D.C, Costa Rica, and San Diego.
If travel is a goal for you, having a side hustle will allow you to save for that trip.
Related Reading: How to Save Money on Travel
It's Fun
Another benefit of a side hustle is that depending on the one you decide to do, it can be fun. Some side hustles are more fun than others. For example, I love eBay. Selling items on the site is fun to me. I enjoy finding inventory and getting it ready to sell. I get a rush when I find an item that I know will flip. I go to thrift stores nearly every Saturday. If it wasn't fun for me there would be no way that I could do that. It is a good feeling when you find an item for a low price and flip it for three times as much or more.
When you are thinking about a side hustle to start, take some time to figure out what is or could be fun for you. Like I stated earlier, everything won't be fun. I had a side hustle that felt more like work. I dreaded doing it, so I eventually stopped. A side hustle is supposed to help you make more money, not stress you out.
Check out: 40 Side Hustle Ideas to Try This Month
Learn New Skills
If we could go back to 2010, you couldn't tell me that I'd be doing some of the side hustles that I'm doing now. I would have laughed at you or thought that you were crazy. I was in a very different space back then. To be honest, I was kind of lost and going through the motions. I knew that I needed to do something, but I didn't know what. I didn't know anything about WordPress or owning a website. I also wasn't on eBay that much either. Now, I'd like to say that I'm pretty good at both of them. A huge benefit of having a side hustle is that I've been able to learn so many new skills over the years.
Start Your Website With Bluehost today!
I've learned how to run a website, learned how to create images, learned how to run social media, and more. The list goes on. I wouldn't have gotten an understanding of any of these skills if I didn't start my side hustle. There are so many skills that you can learn. Figure out what you want to do and start today.
New Opportunities
The last benefit of a side hustle is that it can lead you to new opportunities. I know a few people who have side hustled their way to a new career. That's amazing and to be honest, I think that's going to be me within the next year or two. Seeing other people level up shows me that anyone can change their career or life by working hard enough.
Since I've been blogging and freelance writing, I've been able to write for several wonderful websites. This would not have happened if I never believed in myself. I've also had the opportunity to speak at a couple of events, be featured in national publications, and be on a few podcasts. Having a side hustle and telling people about it are the main reasons for these new opportunities. As I keep better at things, I know that more opportunities are on the horizon.
Have you ever sat there and imagined the possibilities that a side hustle can take you? If you haven't taken some time out today and visualize what you want to happen. After you've done that, get to work.
Everyone is not going to understand the benefits of a side hustle. That's fine. Some people are just lazy, or they are content with their situation. This article isn't for them. It's for people that want to make their situation better. Side hustling is a way of life. It is helping me create a lot of extra income. If you are interested in side hustling, I want you to realize that you can do it. If you need any help or have a question about anything join my Facebook group, My Money Chronicles Inner Circle.
Do you know any other benefits of a side hustle?
Here are some more side hustle related posts:
8 Places to Sell Stuff Online for Cash
Jason Butler is the owner of My Money Chronicles, a website where he discusses personal finance, side hustles, travel, and more. Jason is from Atlanta, Georgia. He graduated from Savannah State University with his BA in Marketing. Jason has been featured in Forbes, Discover, and Investopedia.